Want to know how to be a blogger step-by-step guide in 2023? Our comprehensive guide covers everything you need to know, from choosing a niche and setting up your blog to creating content and growing your audience. Learn how to be a blogger a step-by-step guide for starting a successful blog.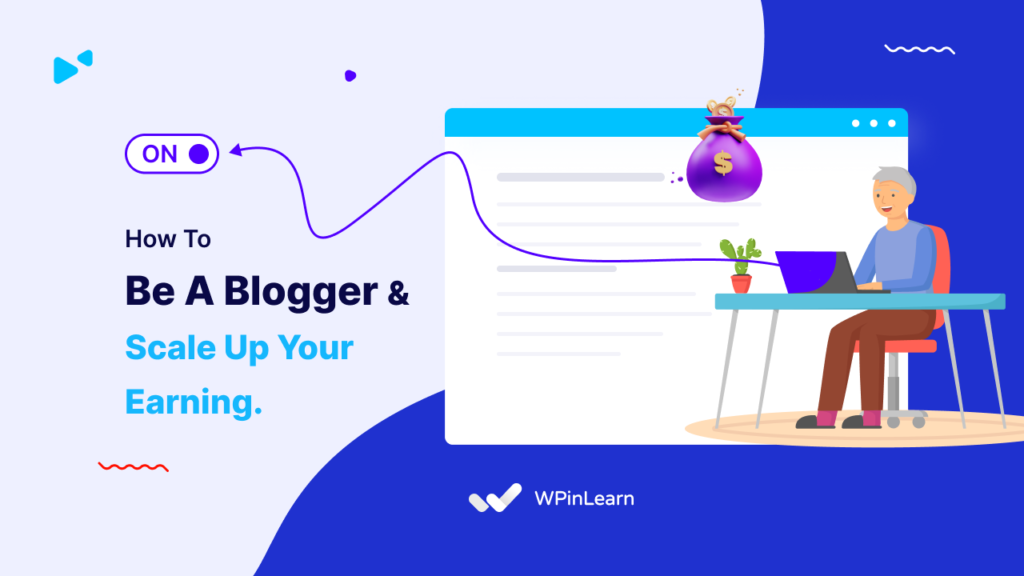 Even if setting up a WordPress blog is straightforward, knowing what to do and how to do it is still essential if you want to avoid wasting time and advance in your blogging career. We created this step-by-step guide for that reason.
You are a beginner, not a coder or a non-technical person, but if you follow the how to be a blogger step-by-step guide, you can start a blog.
Step-by-Step Guide
Who Are the Bloggers?
Before starting the how to be a blogger step-by-step guide you may want to know who are bloggers. Bloggers are people or organizations that produce and distribute content on blogs. They could be stay-at-home parents, working people, business owners, students, or specialists in a particular sector. They utilize blogs as a forum to express their opinions, insights, information, and advice on a range of subjects, including lifestyle, fashion, technology, travel, food, health, personal development, and many more.
Bloggers have gained notoriety recently for a number of reasons. For many people, blogging has evolved into a second job or alternative employment. As a result, more people are deciding to join the ranks of bloggers.
Who are bloggers, then? Bloggers are people who enjoy letting you into different aspects of their lives. They publish articles on a range of subjects, including the arts, interior design, woodworking, and finance. Because of their mobility, bloggers don't need to be stationary. They are online 24/7!
What is a Blog?
Also before starting the how to be a blogger step-by-step guide, you have to know what a blog is. Blogs An online diary or informational website that displays content in reverse chronological order, with the most recent posts appearing first, is known as a "blog," a contraction of "weblog." It serves as a forum for writers to express their opinions on specific topics.
What is the Purpose of a Blog?
A blog is used for many different purposes, but a few of the most common include: sharing personal opinions, experiences, and interests. To provide helpful information to readers. To promote a business, organization, or product
What is Blogging?
The act of blogging includes producing articles, images, and other types of content and posting them on a website. Its traits include casual language, a relaxed environment, frequent updates, lifehacks, and suggestions, as well as a high level of user interaction.
There is proof that this kind of business generates healthy profits now that the number of blogs surpasses 600 million. People create blogs for a variety of purposes, including business, brand awareness, and high Google rankings.
What is Blog Writing?
The act of producing and posting written content on a blog is known as "blog writing." A website or portion of a website that regularly publishes posts or articles on one or more themes is referred to as a "blog." Blog writing frequently adopts a more conversational tone and is generally less formal than traditional journalistic or academic writing.
Personal experiences, opinions, news, guidance, lessons, and other subjects can all be covered in blogs. Bloggers use their writing prowess to instruct, enlighten and amuse their audience. They can also use their writing to establish themselves as authorities in their profession, promote a cause or product, or develop a personal brand.
How to Be a Good Blog Writer?
Possessing strong writing abilities, subject matter expertise, and a clear understanding of your target audience are necessary for blog writing success. To make your blog more visually appealing, it's also crucial to use the right keywords, write interesting, well-organized content, and incorporate multimedia components like photographs and videos.
Blog writing is a fantastic opportunity to connect with like-minded people and share your views, ideas, and experiences with the world, whether you are writing for personal or professional purposes.
Should You Start A Blog In 2023:
A wonderful year to launch a blog is 2023. Since the internet is still so young, new strategies to profit and expand your site are introduced every year.
For instance, it has only been in the last few years that businesses and advertisers have begun to recognize the worth of online influencers like bloggers, which has resulted in increasing chances for bloggers to monetize their work.
Prior to that, firms primarily used celebrities to advertise, but today, it is increasingly bloggers and other internet influencers (such as Youtubers and Instagrammers!)
Is Blogging Still Worth in 2023?
The online space is enormous and will only continue to expand. Each blogger makes their living in a slightly different way, and each has a unique message and narrative. Furthermore, there are a ton of different methods to make money blogging, and we anticipate that the alternatives will keep expanding.
To get inspiration you may read our best examples for WordPress Websites.
How Many Ways to Start Blogging: Easy Ways to Start Blogging
You do not always need a website to start blogging. There are too many ways to start blogging. Here we are going to talk about some of those ways for you to start blogging.
Free Blogging Platform to Start Blogging
One of the first free blog platforms was Blogger.com, albeit its use has declined in recent years.
Although it's a good option for personal blogs, it's not the finest tool for business use. Similar to other hosted platforms, you must first establish an account in order to utilize this one.
You must choose one of the pre-installed themes after creating it, which is easy, at which point you may begin jotting down your ideas. The editor on this platform resembles a Word page, while the user interface is comparable to a Google+ profile.
Guest Blogging: Write Blog on Others Blog Sites
Writing and publishing a blog article on another person's or business's website is known as "guest blogging." Most guest bloggers are given credit in their author byline for their contribution.
So you may start blogging by writing a blog on another blog site.
With the help of our user-friendly editor, you can publish your articles on Medium and reach a global audience. Publishing content on Medium is free, and the millions of readers who follow pertinent topics in addition to your followers may read the pieces you submit.
One of the few blogging platforms on the internet that allows for a simple registration, posting of excellent content, and payment after a month is Medium.com.
Over 450 million people use the free publishing site Tumblr each month. You just need to create a free account on Tumblr in order to publish your content there.
Bloggers wishing to establish themselves online might consider Tumblr. All of its features are user-friendly for beginners and simple to grasp from the start.
You can monetize your Tumblr blog, in addition to enabling advertisements to be shown to visitors, by including affiliate links.
Write.as is a condensed blogging platform that offers you a distraction-free writing environment as well as a clear reading environment for your audience. We concentrate on writing rather than managing content. Every time you launch the program, the editing screen will be the first thing you see. You can use the user-friendly Rich Text editor in Write.as or write in Markdown.
Because Instagram captions can only be 2,200 characters long, as opposed to no limit on other blogging sites, Instagram blogging is microblogging. With 15,000 active followers, Instagram bloggers can earn about $200 for every sponsored post. A lot of people start an Instagram blog with the goal of immediately making sales.
What is Niche?
A blog niche is a topic area that you have carefully chosen to center your blog posts on. To put it simply, choosing a blog niche is just another way to respond to the question, "How do you decide what to blog about?"
And since you're just getting started with your blog, this is a crucial question to get right because the answer could ultimately influence the future success (or failure) of your site.
Some bloggers just write whatever comes to mind, but that isn't a great blog approach for long-term success. especially if you want your blog to someday make money and develop into something more than just an online journal with a select group of followers.
Instead, you should choose a blog niche—a certain subject on which you'll concentrate all of your content—to establish what your followers may expect from you.
How Much Important to Choose a Good Niche?
For a blog to be successful, picking a suitable niche is crucial. A carefully selected niche can assist a blogger in the:
Establish expertise
By concentrating on a particular subject, bloggers can position themselves as authorities in that field and draw in a niche following that is interested in their work.
Create relevant and interesting content
A clearly defined niche enables bloggers to produce content that is more intriguing and relevant to their target audience, which promotes growth and engagement.
Attract a targeted audience
Bloggers can reach a targeted audience that is interested in their content and is more inclined to interact with it and share it with others by concentrating on a certain niche.
Monetize their blog
A niche that has a high demand and potential for growth can be more profitable, allowing bloggers to monetize their blog through advertising, affiliate marketing, and other revenue streams.
Stand out from the crowd
With so many blogs on the internet, standing out from the crowd and setting oneself apart from other bloggers can be facilitated by having a clearly defined niche.
For a blog to be successful, picking a suitable niche is crucial. When selecting a niche, bloggers should carefully assess the potential for development and profitability as well as their interests, abilities, and expertise.
Most Popular Niche For Blogging
One of the most well-liked ways to make money online is by blogging. But just because it's popular doesn't imply that it's simple, especially for newcomers. The first step to becoming a successful blogger is understanding the most lucrative blog niches.
Fortunately, you have a wide range of blog subjects to choose from. You may start producing high-quality articles and making money off of your content once you identify a niche that aligns with your interests and supports your skill set.
The most profitable blog niches for 2023
These 18 excellent niches are a terrific place to start if you want to choose the ideal subject for a new blog to earn money.
Digital Marketing
Blogging and making money online
Health and Fitness
Personal finance and investing
Recipes and food
Personal development and self-care
Making Money
Movie & TV Reviews
Fashion
Politics
Social Media
Gaming News
Weddings
Education
Sports
Do It Yourself (DIY)
How-to Guides/Tutorials
Product Reviews
How to Choose a Blog Niche?
At some point, every blogger must decide on a blog niche. and it's crucial to avoid selecting a specialty at random (or even because you believe it would bring in a lot of money).
You will need a lucrative blog topic concept that you are willing to stick with for a considerable amount of time if you want to create a successful blog and attract genuine visitors to your site.
Here is a 6-step blog niche checklist to help you get started. Make certain you:
Identify your interests and passions
What subjects are you knowledgeable about and enjoy writing about? When selecting a niche, take into account your personal interests, professional experience, and hobbies.
Conduct market research
Using keyword research tools and competition analysis, find out how popular your selected niche is. Find markets with a lot of demand but little competition.
Consider profitability
Think about how lucrative your chosen niche might be. Look for markets with a lot of demand, room for expansion, and opportunities for advertising, affiliate marketing, and other revenue streams.
Evaluate your skills and experience
Take into account your knowledge and experience in the field. Are you competent and self-assured enough to write on this subject?
Test the waters
Start writing about a specialty to get a feel for it before choosing it. You might find that the topic you considered interesting is less rewarding than you anticipated.
Narrow down your focus
After you've selected a few viable niches, concentrate on only one subject so you can create an in-depth article about it.
By doing this, you'll be positioning your blog for success from the start.
You'll discover a lot about what readers in the niche you choose to blog about care about, which will help you avoid wasting time, money, and even resources on a blog niche that is never going to succeed.
What is a Blogging Platform?
After choosing a niche for your blog, it's time to learn about blogging platforms. It is possible for authors to publish articles, opinions, or product reviews known as "posts" via blogging platforms, which are broadcast-style communications systems. Posts can be distributed through stand-alone websites, email, feed syndication systems, and social networks.
What to Look for in a Blogging Platform?
Here are some factors to consider when choosing a blogging platform:
Ease of use
To make it simple for you to build and manage your blog, pick a platform with an easy-to-use interface.
Customization options
Think about the personalization possibilities on each platform. While some systems just provide basic customization choices, others include more complex alternatives, including unique themes, plugins, and widgets.
Cost
It costs money to utilize some blogging platforms' premium features and services, while others are free to use. When selecting a platform, take your budget into account.
Features
Take into account the capabilities that each platform offers, such as analytics tools, social media integration, and commenting systems. Pick a blogging platform that provides the tools you require to manage your blog successfully.
SEO friendlies
Look for a blogging platform that makes it simple to optimize your blog for search engines.
Mobile compatibility
Consider each platform's mobile device compatibility in light of the growing number of people utilizing mobile devices to access websites.
It's crucial to take into account aspects like user-friendliness, customization possibilities, price, features, SEO friendliness, and mobile compatibility when selecting a blogging platform. By taking these things into consideration, you can pick a platform that will make it easier for you to start and run a profitable blog.
The Best Blogging Platform
With all that in mind, what should you look for in a blogging platform? Let's compare the best blogging platforms for beginners.
You may also read our complete guide to the best blogging platform.
WordPress CMS
Web.com
Wix
HubSpot CMS
Gator
WordPress.com
Blogger
Tumblr
Medium
Squarespace
Ghost
Weebly
The most widely used blogging platform worldwide is WordPress.org. More than 43 percent of all websites on the internet are now powered by WordPress, which launched in 2003.
You may quickly create a website or blog using the open-source, free WordPress CMS blogging platform.
Since it is a self-hosted option, you will have to register with a WordPress hosting company. If you want to have complete control over your blog's destiny, a WordPress blog is a fantastic alternative.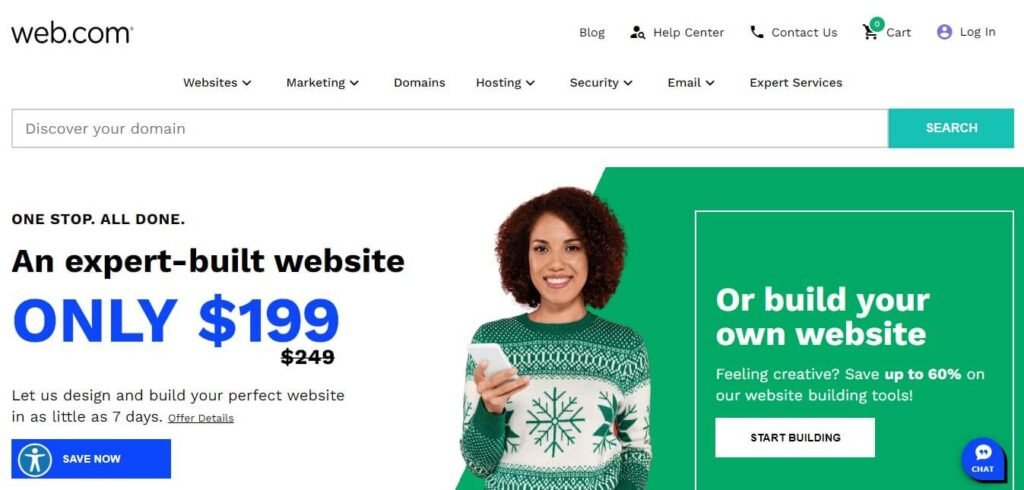 The popular website builder platform Web.com has a built-in function that allows you to add a blog area to your blog website or online store.
For non-technical users, their drag and drop website builder tool is incredibly simple to use.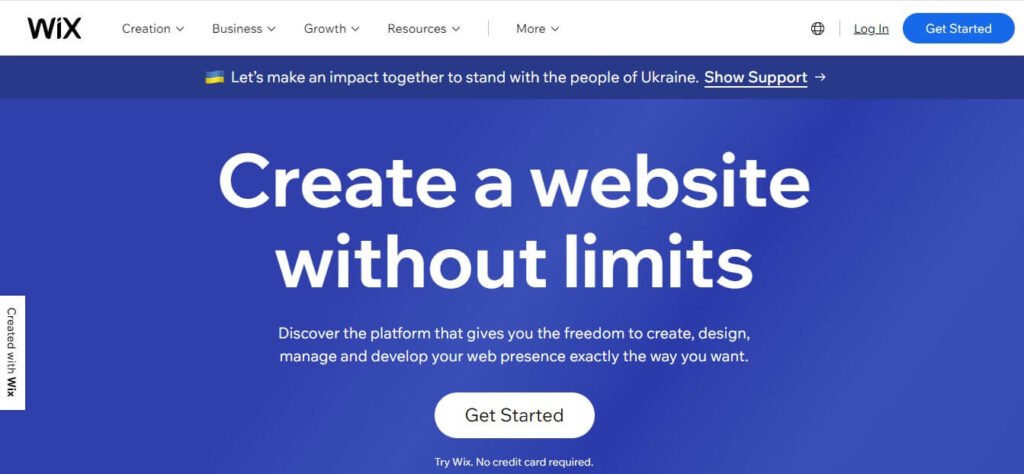 Wix is a well-liked hosted platform for website creation. They provide a way for small businesses to quickly create a website with their drag-and-drop website builder. By including the Wix Blog app, you can also add a blog to your website.
Wix.com was established in 2006 as a platform that allowed anyone to easily build a beautiful website without the need for coding knowledge. Currently, there are more than 110 million individuals using it worldwide.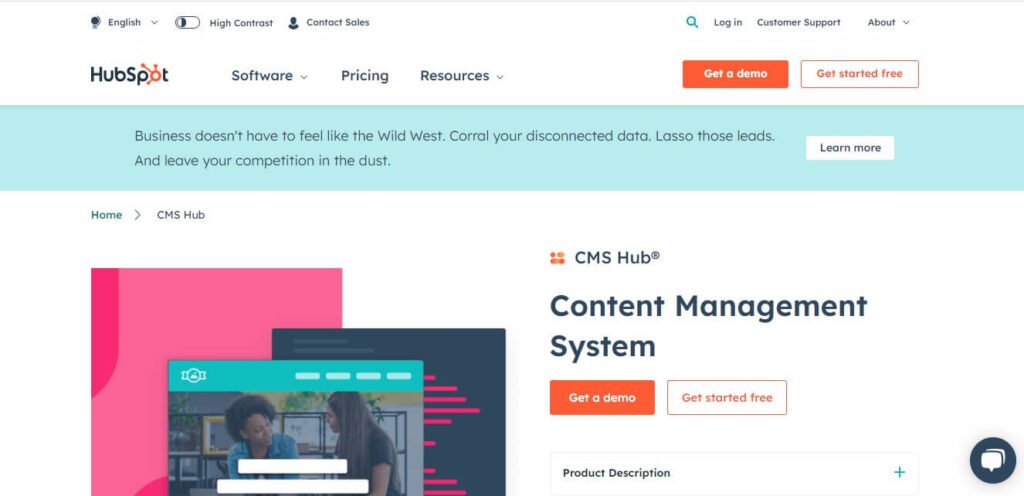 An all-in-one blogging platform for small, medium, and enterprise websites is HubSpot CMS Hub.
You can utilize a single platform to build a website, increase your subscriber count, send newsletters, manage your customer list, and more because it is built on top of HubSpot's marketing and CRM technologies.
You may easily alter the design style of your website using their website builder, and you can even tailor the content that visitors see based on their prior behavior.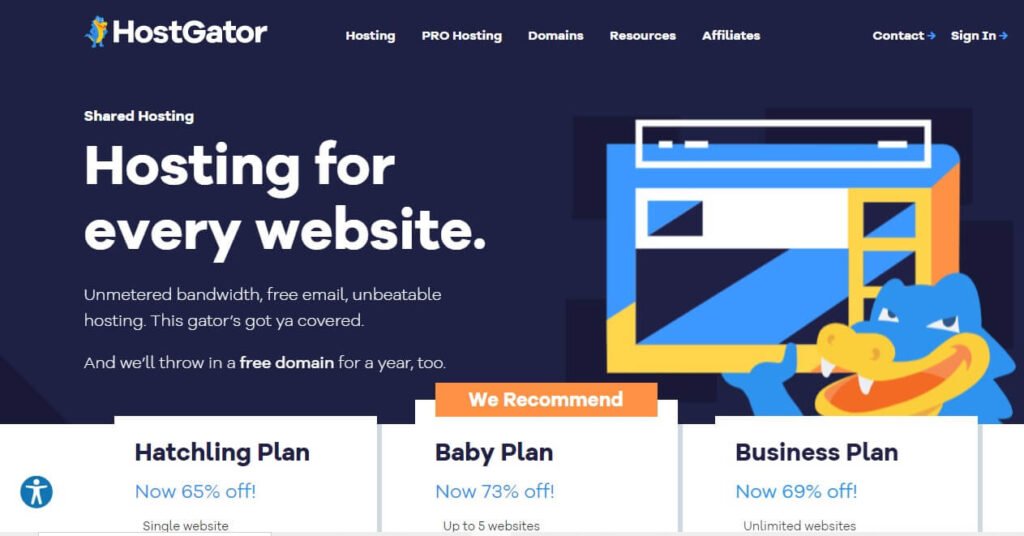 HostGator developed the website builder and blogging platform known as Gator. You can create any kind of website with Gator's drag-and-drop builder, including blogs, company websites, and even an online store.
It's critical to distinguish between the Gator builder and HostGator website hosting. Like we did, you may build a WordPress blog using the HostGator hosting service.
Gator, on the other hand, is the best choice if you're seeking a non-WordPress blog all-in-one blog platform and hosting solution.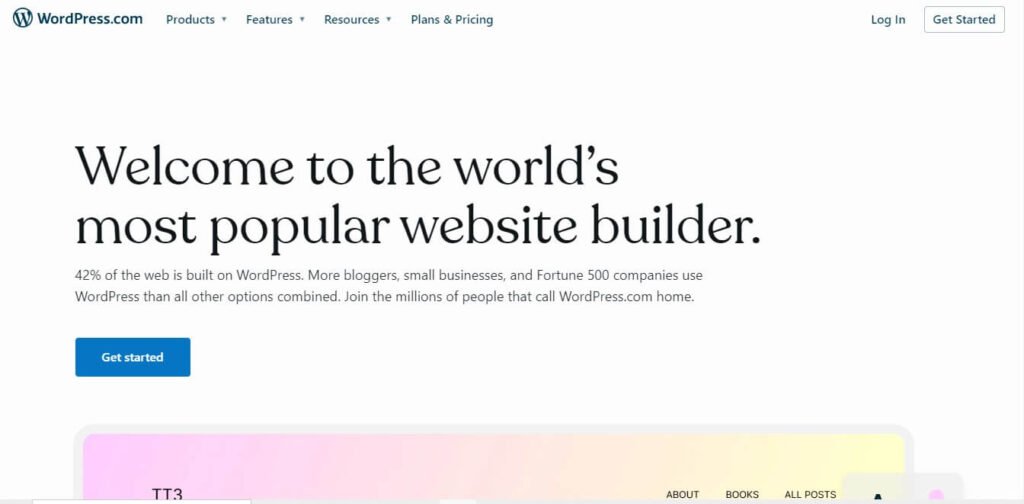 WordPress.com is a blog hosting service provided by Automattic, a business founded by Matt Mullenweg, a co-founder of WordPress.org.
Free basic blog hosting is available from WordPress.com. A personalized domain name, more storage space, and other premium services are available as add-ons.
WordPress.com, which was launched in 2005 with the intention of making the WordPress bog experience more accessible to a wider audience, is a decent blogging platform for users who don't require the sophisticated capabilities of self-hosted WordPress.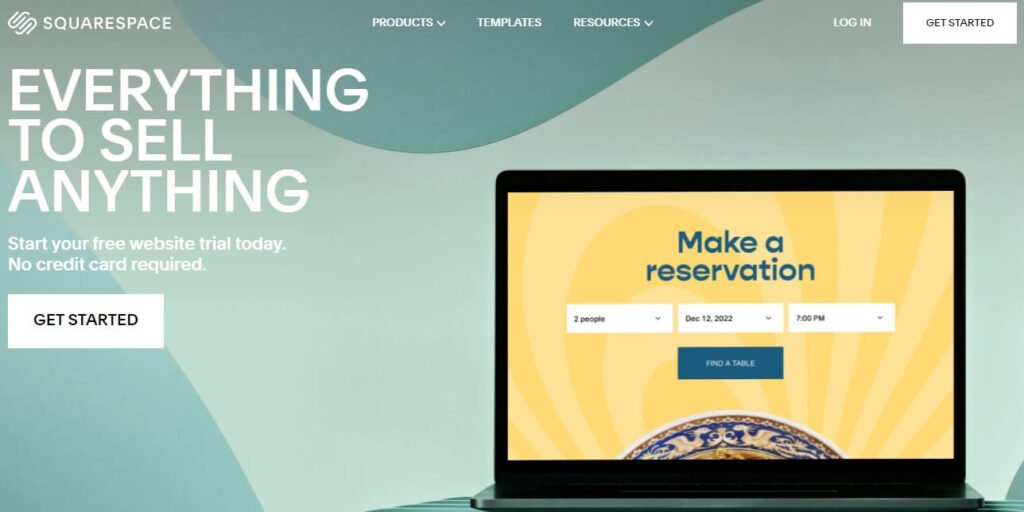 You can construct stunning websites using simple drag-and-drop tools with Squarespace, a website-building service. Small business owners seeking an easy approach to establishing an internet presence are the main target audience.
Squarespace, founded in 2003, today powers millions of websites online (source: CMS market share).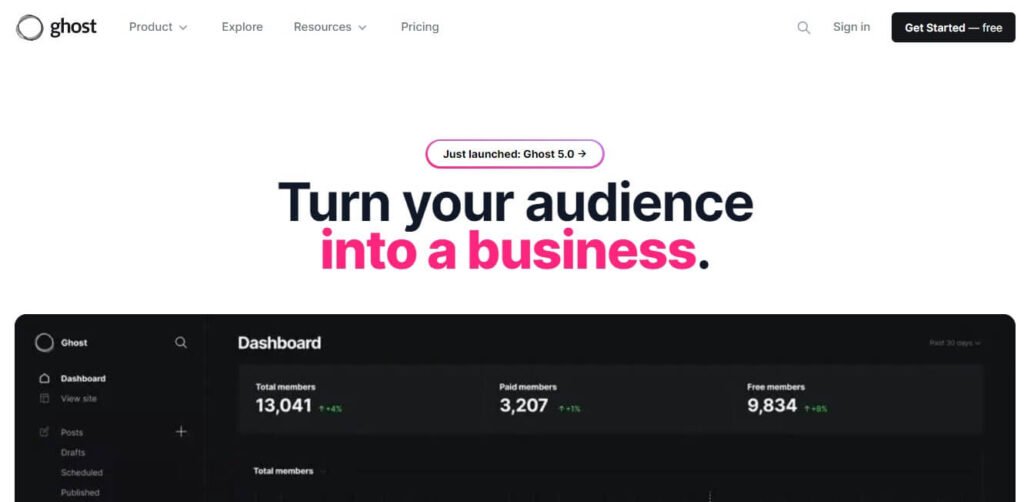 Ghost is a straightforward blogging platform with tools only for creating blog entries. Ghost, which debuted in 2013, is a hosted platform as well as software that you may install and host on your own. We'll examine both possibilities.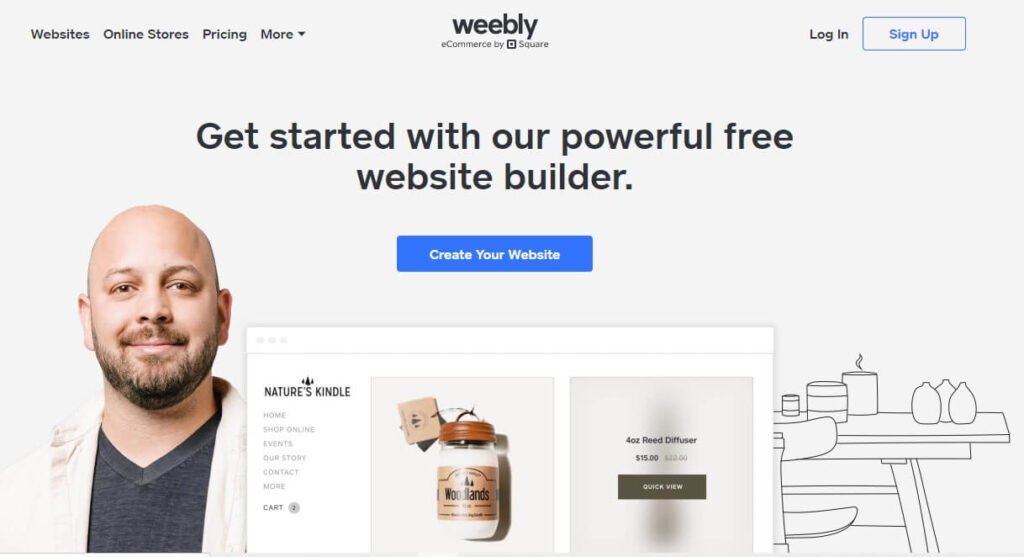 The well-known website builder Weebly is a property of Square's payment system. They provide simple-to-use website development solutions for eCommerce stores and commercial websites.
You can also add their blog feature and free blog themes to your website.
You can Consider WordPress for Your Blog
One of the most well-liked and commonly used blogging systems nowadays is WordPress CMS. It is an open-source platform that users can customize and use for free. It also includes a lot of features.
You have complete control over every element of your website using WordPress.org. Your blog can expand as you add new features, such as forums, an online store, premium subscriptions, and the ability to sell online courses. As a result, WordPress blog is the best free blogging platform for making money. For a WordPress blog, thousands of free themes are accessible.
Why WordPress is The Best Blogging Platform?
Here are some reasons why WordPress blog is still the best blogging platform for your blog. For many people, blogging is now a career.
A huge number of bloggers make more money than they would have from any kind of professional job. The best blogging platform for your blog is still WordPress.
Google BlogSpot initially held the most market share, but since the WordPress blog gained popularity, every other platform has grown stale.
WordPress is regarded as the greatest blogging platform for a number of reasons, with the following being some of the most compelling:
Flexibility
WordPress is incredibly adaptable and can be customized to suit the requirements of a wide range of users, from modest personal blogs to substantial business websites.
Customization
Themes and plugins are just two of the many customization choices that WordPress provides, enabling users to alter the appearance and feel of their site to better reflect their aesthetic and brand.
User-Friendly
Even non-technical users may easily produce and publish blog content because of WordPress's user-friendly interface and basic design tools.
Large Community
The broad developer and user base of WordPress blogs has produced a huge selection of plugins, themes, and other resources that can be utilized to improve the functionality of a blog powered by WordPress.
Integrations
WordPress makes it simple to develop and grow your blog over time by providing a variety of connectors with third-party tools and services, such as social media platforms, email marketing tools, and e-commerce platforms.
Exponential Increase of Quality Themes
Because no other blogging platform can offer as many high-quality themes, WordPress is renowned for its themes. Since its start, there have been more high-quality themes available.
According to the categories of blogs, various types of blogging themes are already available. For instance, there are countless themes for blogs on fashion, technology, health, and other topics.
The majority of these free themes offer gorgeous designs and powerful features. In addition, premium themes are very well-liked, and switching from a free to a premium theme is a straightforward process.
Plugins Just Got Better Than Best
Because of its abundance of plugins, WordPress is still the ideal blogging platform for your website. In addition to themes, plugins encourage people to use WordPress to build personal blogs and commercial websites. In order to keep up with the current trend of the internet world, more and more beneficial plugins are being introduced.
All the various cutting-edge plugins that will enhance your blog are available right now. There is no mystery as to why people prefer WordPress blog, given the abundance of free features.
Search Engine Optimization (SEO)
WordPress is search engine optimized, making it simpler for your blog to appear high in search results, bringing in more readers, and boosting your presence online.
Mobile Responsiveness
Your WordPress blog is mobile-responsive, which is crucial in today's mobile-first world since it ensures that your blog will look amazing on any screen, including smartphones and tablets.
Cost
WordPress blog is an accessible alternative for people wishing to establish a blog without spending a lot of money because it is an open-source platform that is free to use.
Because of its combination of adaptability, personalization, simplicity, community, integrations, search engine optimization, mobile responsiveness, and affordability, the WordPress blog is the greatest blogging platform.
Are You Ready to Choose Your Custom Web Address?
Choosing a custom web address (also known as a domain name) is an important step in establishing your online presence. A domain name is a URL that people type in to access your website, and it can greatly impact the success of your blog.
Let's Introduce Domain And Hosting
Setting up a blog site requires both a domain and hosting. Select a hosting company that offers the ideal balance of price, storage space, bandwidth, and customer care, as well as a domain name that is distinctive, memorable, and simple to spell.
Definition of Domain
A domain name is the online version of a street address. Instead of using its internet protocol (IP) address, it makes it easier for users to find your website. An essential component of the internet's infrastructure are domain names, which are composed of a name and an extension.
Definition of Hosting
You can publish your website or web application on the internet thanks to web hosting, an online service. When you sign up for a web hosting service, you essentially rent space on a real server where you may keep all the files and information necessary for your website to operate as intended.
How to Choose a Domain Name?
Finding and being remembered by your audience ultimately depends on the domain name you choose for your blog.
You should pick a domain name that is consistent with your brand if you are prepared to launch an online presence for your blog. Users will be able to find and trust your blog site this way. When selecting your domain name, there are a few things to keep in mind.
1. Use a .com extension
You've probably visited a lot of websites, and it shouldn't be difficult to notice that the most popular domain extension is ".com." Other well-known or reliable possibilities include.org and.net.
However, the choices are varied and may include everything from.xyz to.co to.cafe to.pizza. Choosing a more humorous alternative, however, should be done with caution as they may come out as unprofessional or unreliable.
Choose.com if it's an option. If a domain you want isn't available in its.com form, other good options include.org,.net, and.co.
2. Keep it short and simple
Long domain names are more difficult to remember, which may result in lower traffic for you. WebsiteSetup.org advises choosing a domain name with 6 to 14 characters.
Beyond that, consumers will probably get lost trying to write your website URL if your short domain name is difficult to spell or pronounce.
3. Avoid hyphens, numbers, and double letters
Users must strive to overcome each of these barriers in order to visit your website. These characters are not very easy to remember, and doubled letters might make the domain name unorganized and challenging to read.
Not to mention that if visitors try to find your blog website on the internet, all of these components could end up being typos. It is also much more difficult to communicate the domain name correctly when it contains hyphens, digits, and the same letters back-to-back when you are recommending your website to customers or other people in person.
4. Stay unique, specific, and on-brand
With so many considerations, it can be challenging to come up with a domain name that is both distinctive and true to your blog while still being clear and succinct.
But that is undoubtedly feasible. Focus on your brand name and what you sell while researching your specialty to make sure your domain name is also drawing in the desired internet audience.
5. Add keywords
Conduct some keyword research to assist in guiding your domain name without going overboard – keep in mind, we want something short and sweet here.
When you concentrate on keywords, your brand and domain name will both help your SEO. In order to have a chance of ranking, seek out low- to medium-competition keywords as you come up with ideas, and make sure the keywords accurately describe your blog.
6. Do your research
Nothing is worse than coming up with what looks to be the ideal domain name—aside from keyword research—only to discover that you have unintentionally infringed on a trademark.
To avoid dealing with legal issues and the time-consuming process of selecting yet another distinctive, SEO-friendly domain name, be sure the domain name you choose is actually original to you.
7. Avoid vague or generic options.
While you want your domain name to be distinct and simple to remember, you also don't want it to be so simple that it is overlooked. Choose a catchy, memorable, and recognizable theme.
8. Make it easy to type and pronounce.
Your blog's name may be distinctive, but your traffic may suffer if no one can pronounce it or write it as a URL.
Users are more likely to make errors and get lost when trying to find your blog if the domain name is unclear. Select a straightforward, easy-to-understand domain name to make it simple for them and prevent harming your traffic counts.
9. Move quickly.
Once you've chosen a domain name, don't wait to register it because there are millions of domain names available online today, and more names are being registered every minute.
Although they are in high demand, domain names are also rather cheap. Grab it before it's gone if your concept isn't currently in use or protected by a trademark. If you determine that it simply isn't working, you may always modify it later.
How Do I Choose a Good Web Hosting Provider?
Web hosting is an essential component of a website. Before choosing a hosting provider and a plan for your website, it could be necessary to give them some careful attention. Because not all hosts are created equal, you need to be sure you are getting all the functionality you need.
Finding a reputable web hosting company might be difficult, but with some study, you can discover one that suits your needs. Here are some things to take into account while choosing a web hosting company:
Reliability
Choose a supplier that offers a high level of uptime, which refers to the duration during which the server is active. A decent hosting company should have 99.9% uptime or more.
Speed
The effectiveness of your website might be significantly impacted by the server's speed. Pick a service with a solid network infrastructure and quick, dependable hardware.
Support
For your website to function properly and to ensure that you have the support you need in the event that something goes wrong, good support is essential. Choose a service with friendly, experienced staff and 24-hour assistance.
Scalability
The requirements for your website may alter over time, so it's critical to pick a supplier who can grow with you. Choose a supplier who has expandable plans and can upgrade your account quickly when necessary.
Security
Your website's security is crucial, so be careful to select a supplier who takes security seriously. In order to avoid hacking and other security breaches, choose a service that offers regular security upgrades.
Pricing
Pick a service provider that provides a reasonable balance between cost and features. Selecting the least expensive provider will probably result in other costs for you, such as slow load times and subpar support.
Features
Think about the services you require, such as email accounts, limitless storage and bandwidth, and simple site builders. Find a service provider who offers the features you require at a cost you can afford.
Reputation
To learn more about a provider's reputation, read reviews left by previous customers. Choose a service provider who has a solid reputation and a history of happy clients.
Backup
In order to secure your data in case of an emergency, make sure you select a company that provides daily backups.
Contract terms
Take into account the provider's contract terms, such as the duration and cost of contract renewals, before signing anything. Select a service provider with a contract that benefits both you and your blog.
You can select a web hosting service that satisfies your demands and aids in the operation of a successful blog by taking these things into account.
Purchasing a Domain and Hosting?
In this tutorial, we are going to use Hostinger's domain and hosting. One of the top web hosting providers on the international scene is Hostinger. It provides cloud hosting, shared hosting, and hosting for WordPress blogs.
A single website's monthly shared hosting package with Hostinger starts at $9.99.
First, search your preferred domain. Hostinger offers a domain name search tool called Domain Checker that allows you to locate the ideal domain name. Enter the domain name you want to search for. If you already have a domain name, you can transfer it by clicking the Transfer Domain button below.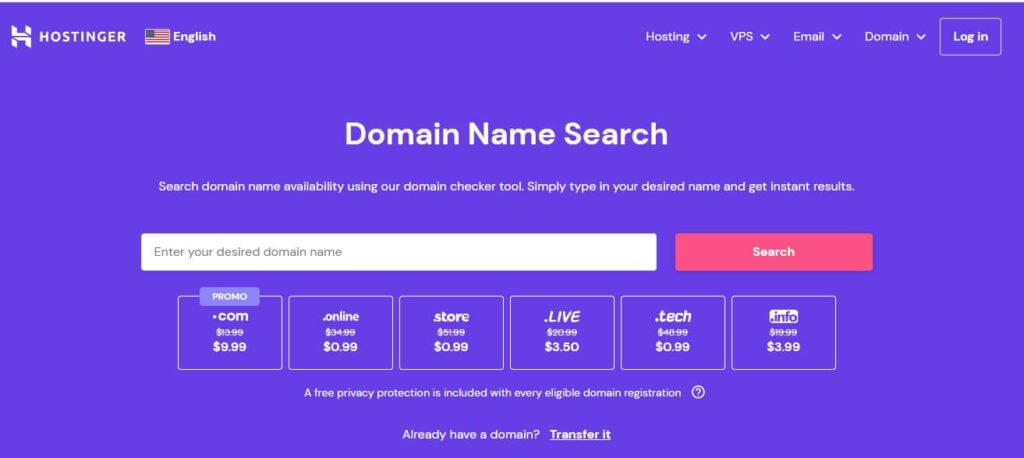 Now for hosting plan we suggest their WordPress Starter plan if you're seeking a web hosting package for several sites. It includes unlimited free email accounts, a free SSL certificate, and a free domain name.
So go to hostinger website and select WordPress hosting from the hosting menu. You will all of these plan for hosting.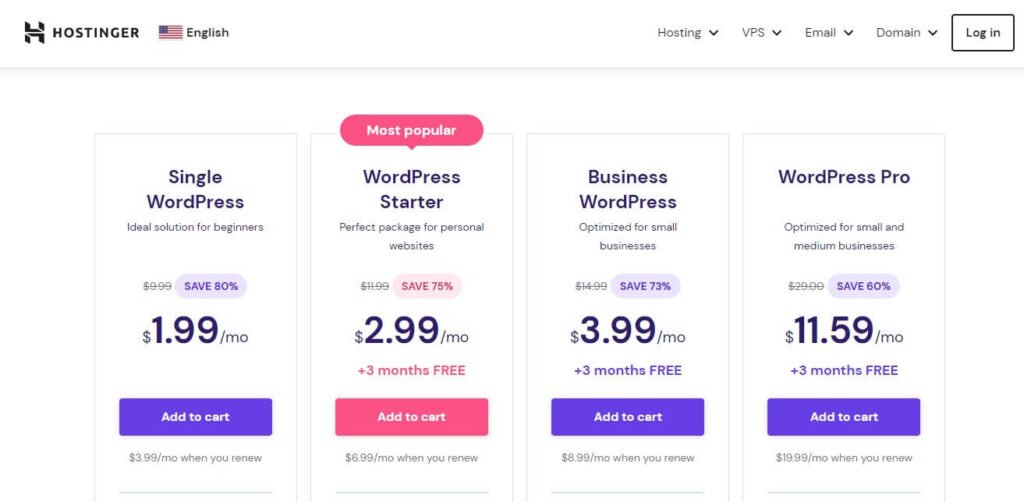 As we said before, WordPress starter is the best plan for starting, so we are going to select WordPress starter; you will get the following features with this hosting plan; and by clicking "add to cart," we are going to move forward.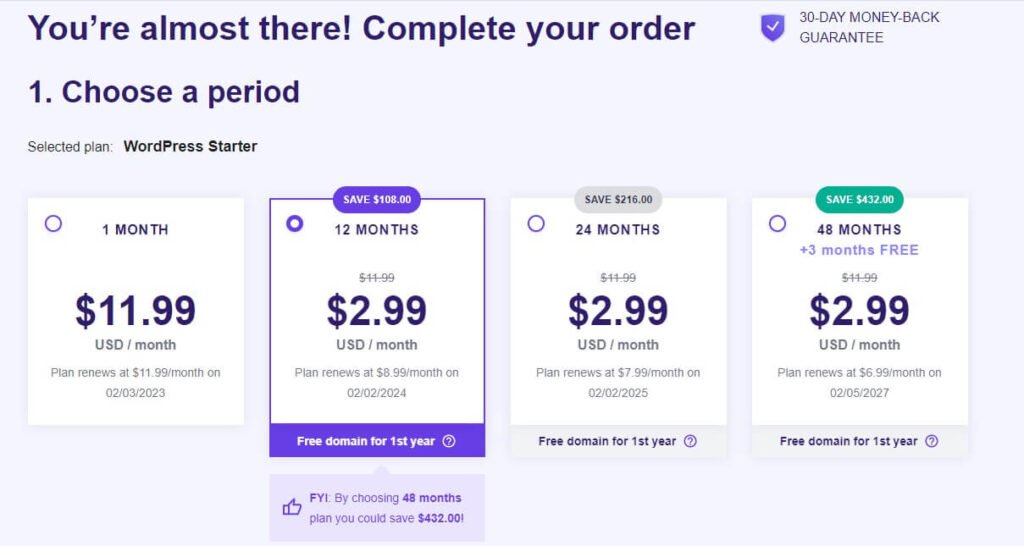 From here you have to select time period for your hosting plan, if you choose 12 months minimum you will get 1 domain for free. The next option is to select your payment option.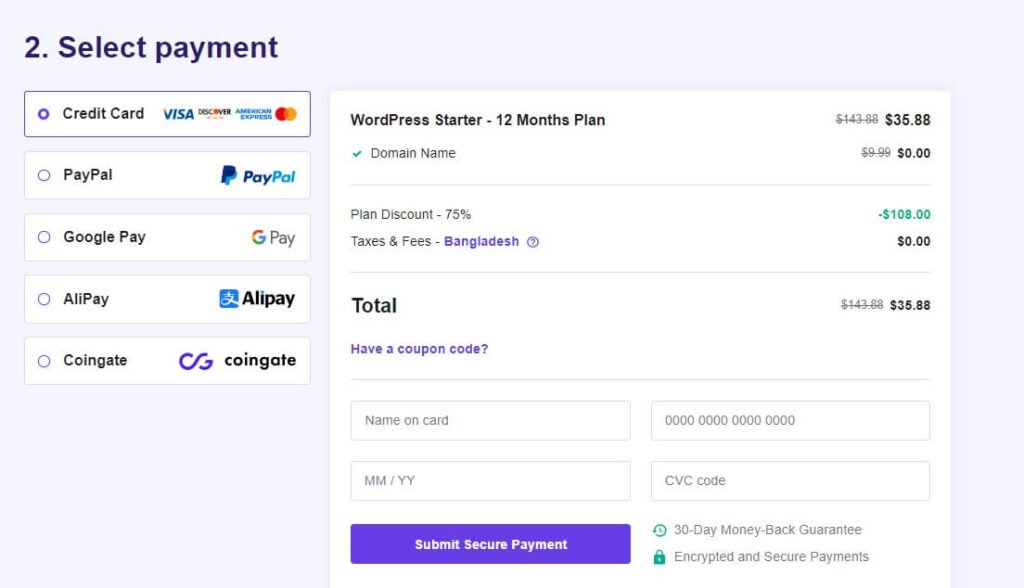 Fill in all this information and click on "Submit secure payment." Now you have successfully purchase a domain and hosting from hostinger.
Start Setting up WordPress Blog Site: Installing WordPress
Let's start using Hostinger's auto-installer, which is the quickest and easiest way to install WordPress. How to install WordPress on hostinger's control panel is demonstrated in the steps below:
Log in to the Hostinger admin panel. Open Auto Installer by finding it.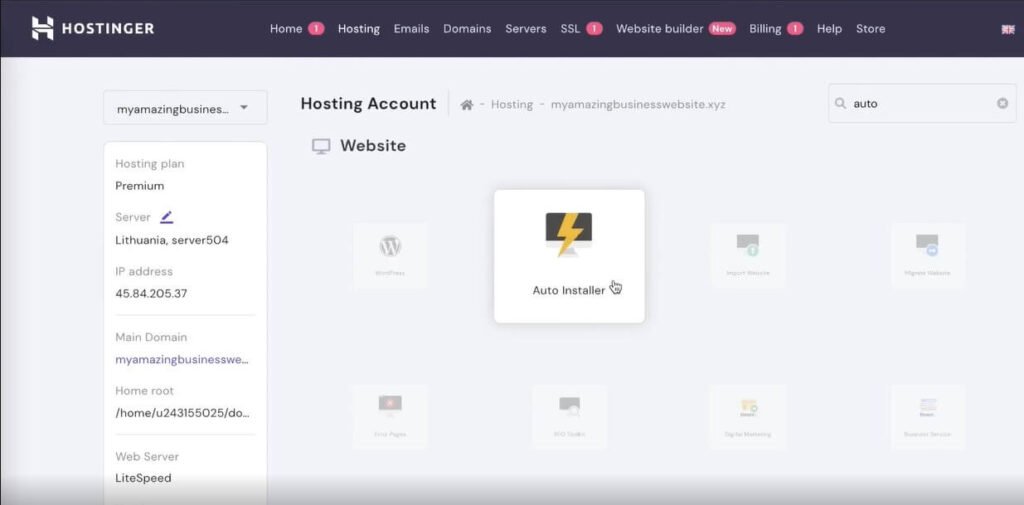 Select the WordPress.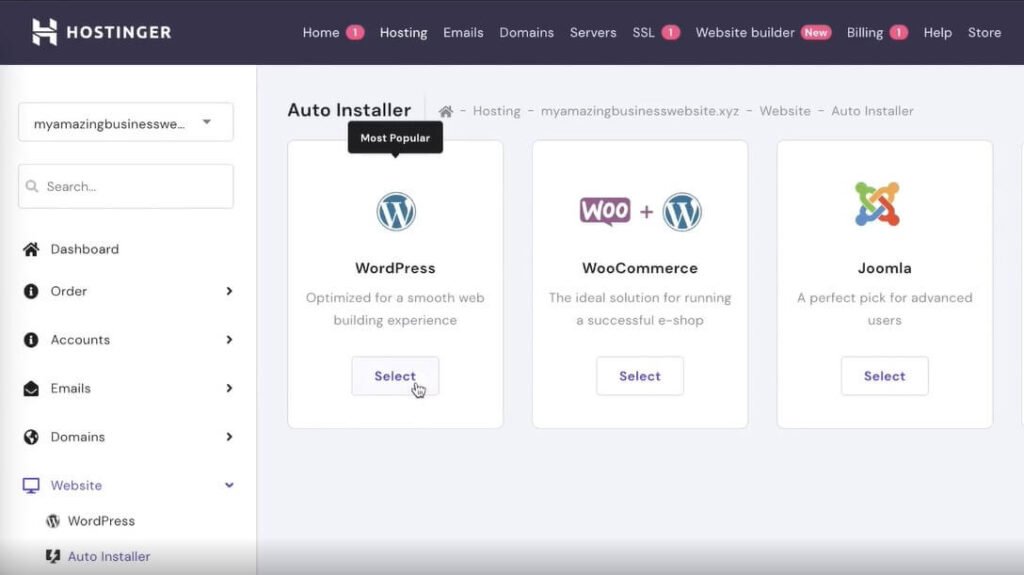 Now fill your WordPress blog site details:
URL – the website where WordPress ought to be set up. Leave it blank if you wish to install it on the root domain (example.com).
Language – Select a language for WordPress.
Administrator Username – Admin username for WordPress blog. You'll use it to enter the WordPress administration area.
Administrator Password: This is your WordPress blog's admin password. You'll use it to enter the WordPress blog administration area.
Administrator Email – Your email address.
Website Title – Your WordPress blog website's name.
Website Tagline – A succinct statement or tagline outlining the purpose of your website
After done click on install button.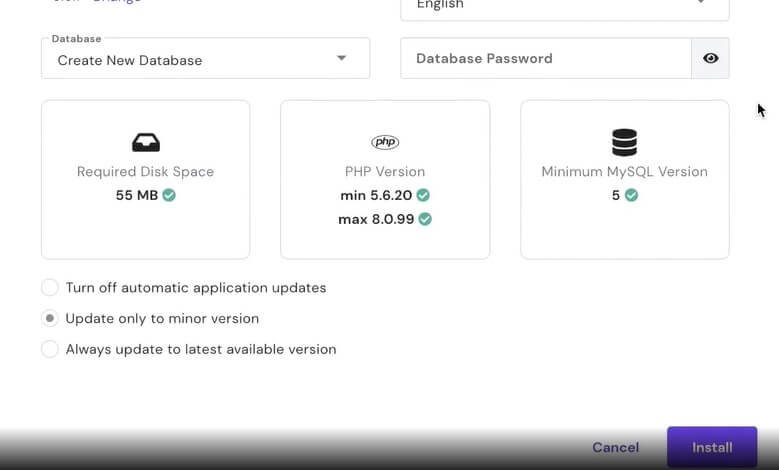 Navigate the WordPress Dashboard
The first thing you should do after the installation is complete is log in to the WordPress blog administrator dashboard.
On the front end of a WordPress blog, a link to the login page is typically present. However, this link is absent from some themes. The simplest approach to get into a WordPress blog in this situation is to append wp-admin to the end of the address of your website, like in: http://www.yourdomain.com/wp-admin
You can use this URL to access the login page, where you must enter the administrator's username and password. Keep in mind that you submitted these details while installing WordPress. Click the "Lost your password?" link if you can't remember your password.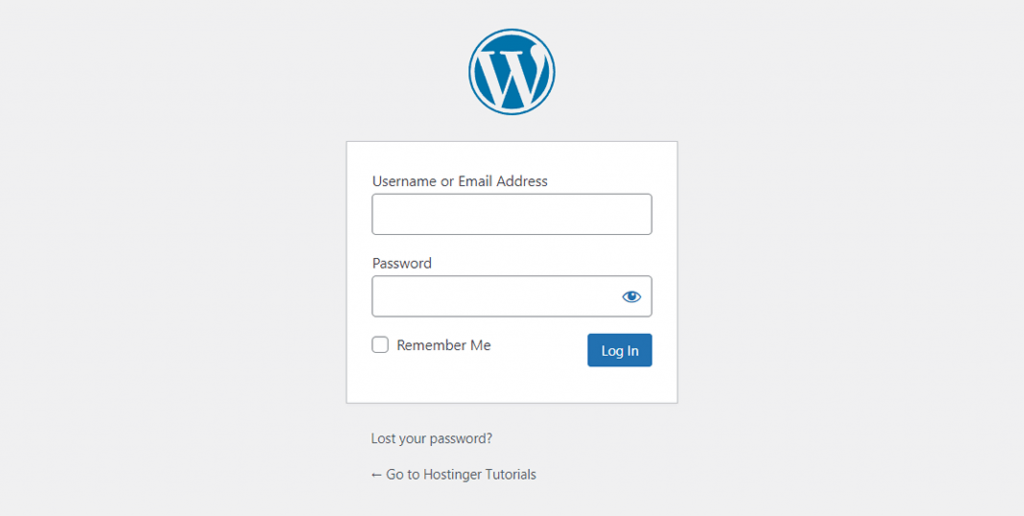 Let's Customize Your Blog Website.
Following installation, it's simple and quick to customize your WordPress blog site by following these few basic steps.
To customize your WordPress blog website, you will need a WordPress theme.
What are WordPress themes?
A WordPress theme is a group of stylesheets and templates used to design the look of a WordPress blog. Because of this, you don't need to know how to code or be a designer to apply a theme to your WordPress blog, and it will instantly have a professional appearance.
How to Choose a Theme for Your Blog and Installing Themes
In their official theme directory, WordPress.org includes thousands of WordPress themes, both free and paid.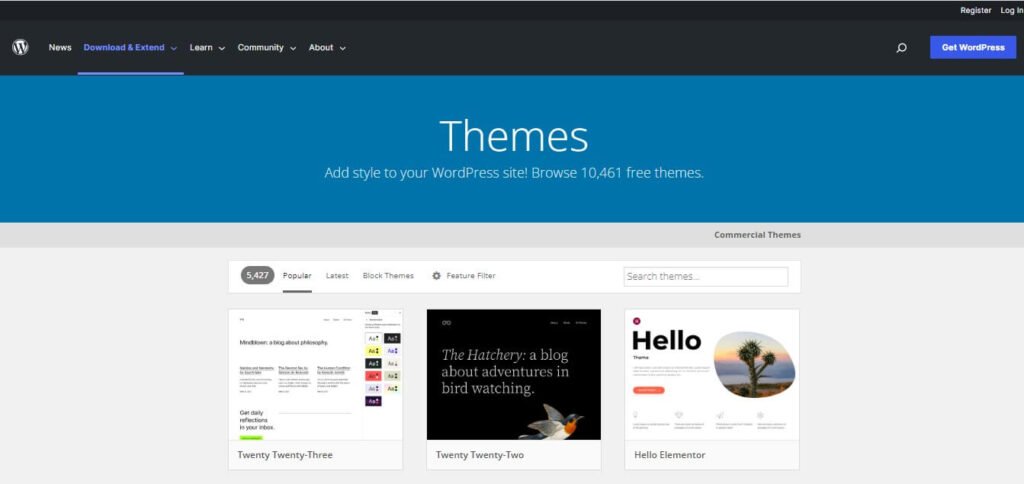 Each WordPress theme is unique in its layout, features, and design. Depending on what the subject of your blog is, you can pick any theme.
You can look for WordPress themes for food blogs, for instance, if you run a food blog. You will receive thousands of suggestions that are tailored to the style that you want for your website.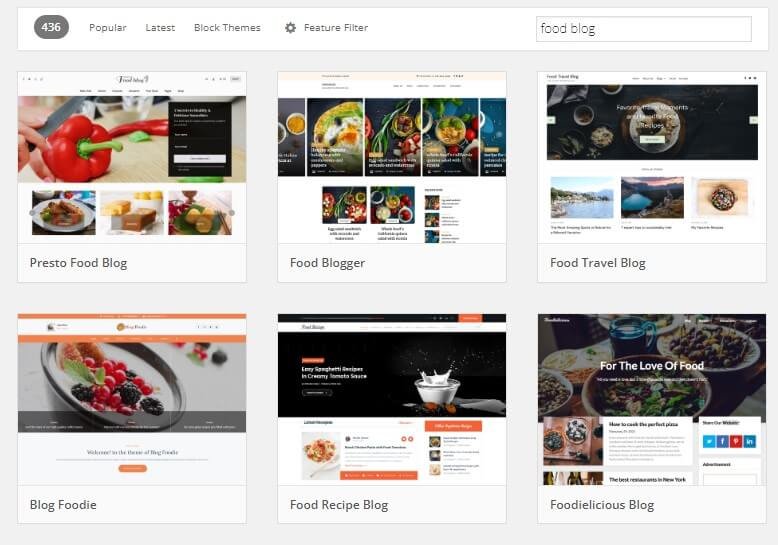 After explaining what a WordPress theme is, let's move on to some advice for picking the best one for your blog.
1. Your Blog Purpose
After determining the purpose of your blog, choose a theme that supports that goal. If you're creating a food blog, for instance, you might want to seek out a theme with big graphics to display your recipes.
2. Preferred Design
Look for a theme with a design that complements your taste and brand and has a tidy, polished appearance. Think about the theme's color palette, typography, and layout.
3. Responsiveness with all devices
Make sure the theme is responsive, which means it can adapt to various screen sizes and gadgets, including mobile phones and tablets.
4. Easy to Customization
Choose a theme that is flexible so you can alter the look and feel to suit your preferences for your blog.
5. Functions You Need
Think about the features and functionality the theme offers, such as the capacity to incorporate social media buttons, unique post types, and other plugins.
6. Consider Customer Support and documentation
In case you need assistance with setup or customization, be sure the theme has decent support and documentation.
7. Consider Supported Plugins
Make sure the WordPress theme you select is compatible with well-known WordPress plugins. With the aid of WordPress plugins, you can customize your blog in any way. You can alter your blog's appearance, including a feature, enhance its functionality, and more.
8. Compatibility with Page Builders
One of our favorite WordPress tools is the WordPress page builder. It might occasionally be challenging to modify a WordPress theme. However, page builders make it simple to create website pages by simply dragging and dropping objects.
9. Think About SEO
The performance of your blog can be severely hampered by a poorly coded theme. It can make your blog load more slowly and degrade the user experience. To determine whether a WordPress theme is SEO-friendly, look at its features and description.
10. Our WordPress Theme Recommendations
The number of WordPress themes available is in the tens of thousands, and new ones are being produced every day. Although it would be hard to include them all, you may check out our exhibition of the top WordPress themes for bloggers.
It's a good idea to try out several themes and preview them on your site to see how they look and function before making a final decision.
After choosing your blog theme, it's time to install your preferred theme. You can read our proper tutorial on how to install a theme in WordPress
After install the theme, click on "customize" from appearance from WordPress dashboard. We are using Hello Elementor in this tutorial.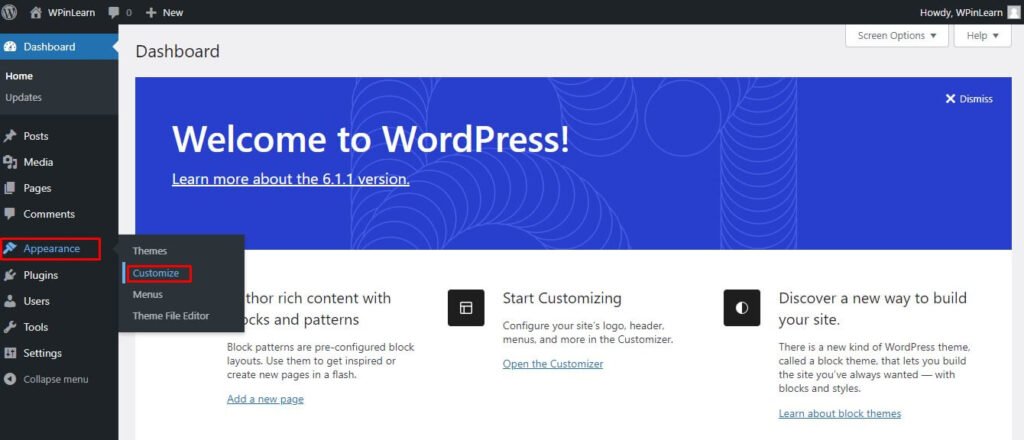 After clicking on "customize," you will find all of these options. From here, click on "Site Identity."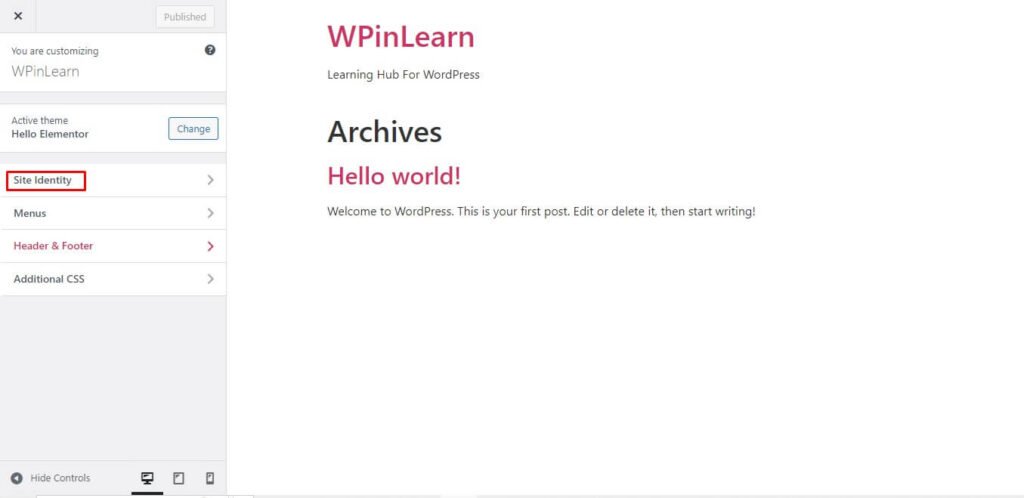 In the site identity section, you can modify your site logo, site title. Also, you can set your site tagline and site icon. After making all the changes, click the publish button and go back to your WordPress dashboard.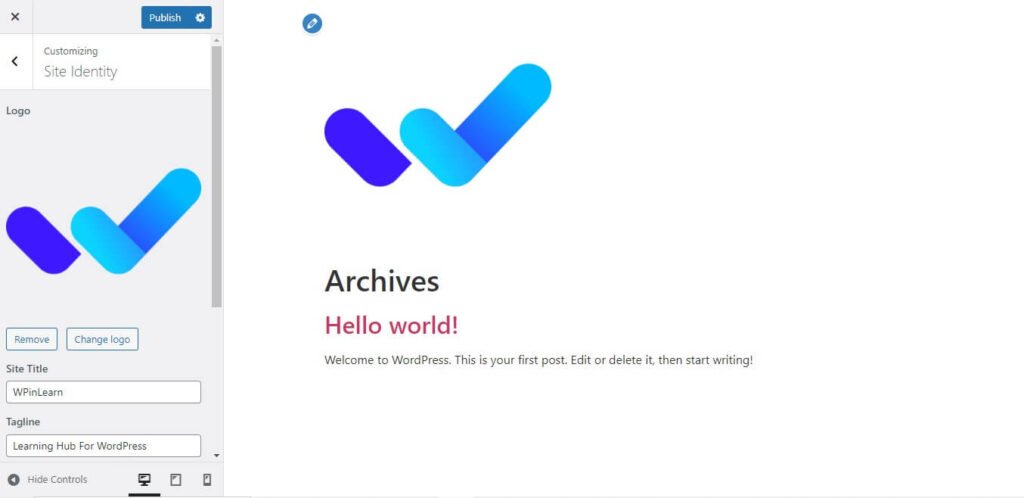 Setup Time Zone
Return to your WordPress blog dashboard and select the "General" settings menu, your time zone, and then "Save Change."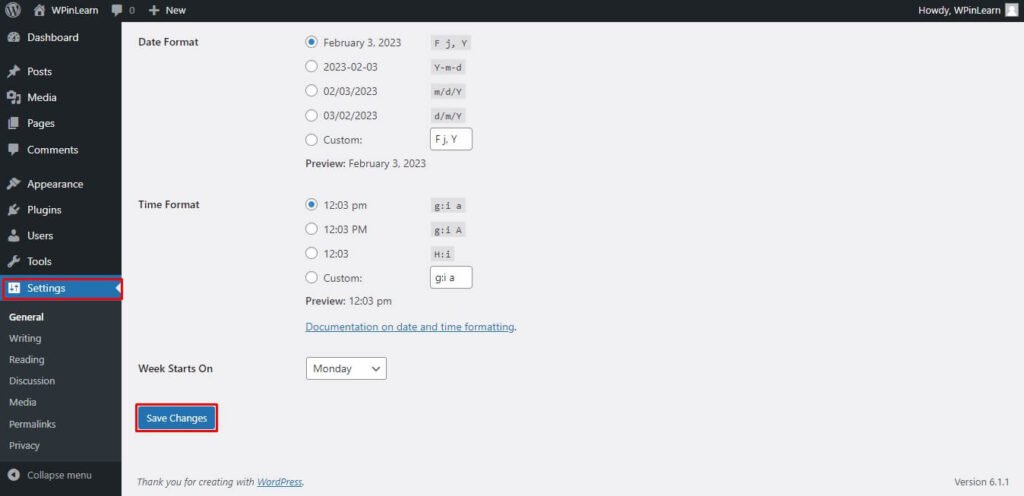 Setup Your Blog Page
All the things you are doing are because you want to blog. So create and set up your blog page. First, you need to create a page for your blog; for that, click on the page and add new one.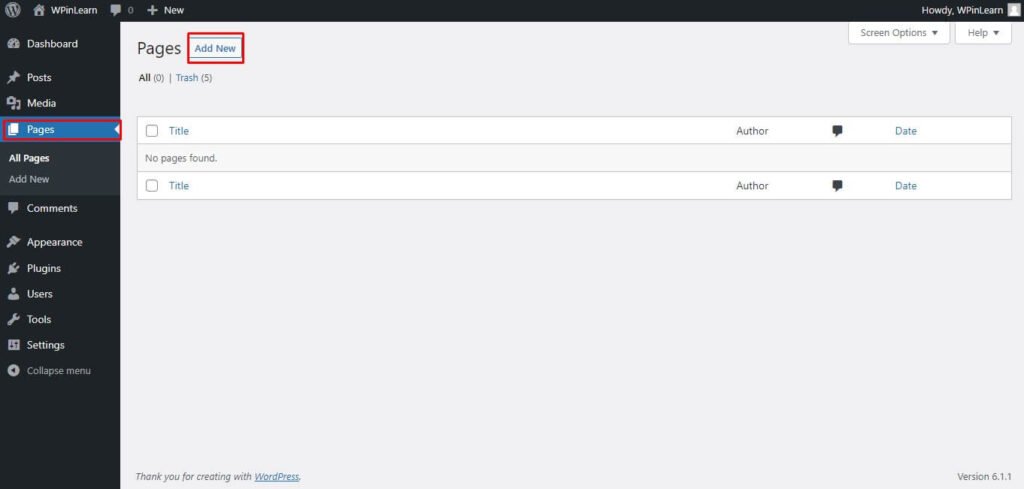 From here, write your blog page name and click on "Publish."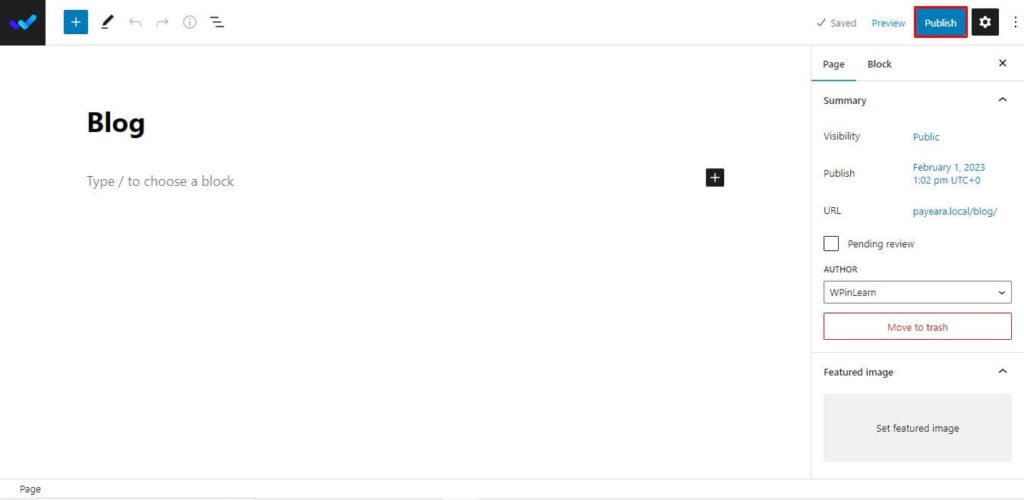 And now click on Reading from the settings menu, set your post page to "blog," and click on save Changes.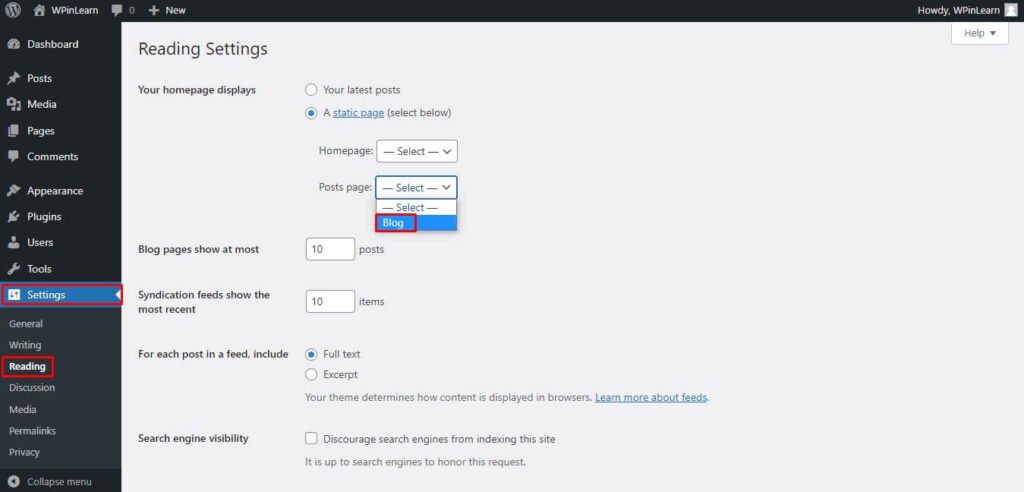 Setup an SEO Friendly URL for Your Blog Post
To set up the SEO-friendly URL, click on Permalink from the settings menu, set the permalink URL as the post name, scroll down, and click on Save Changes.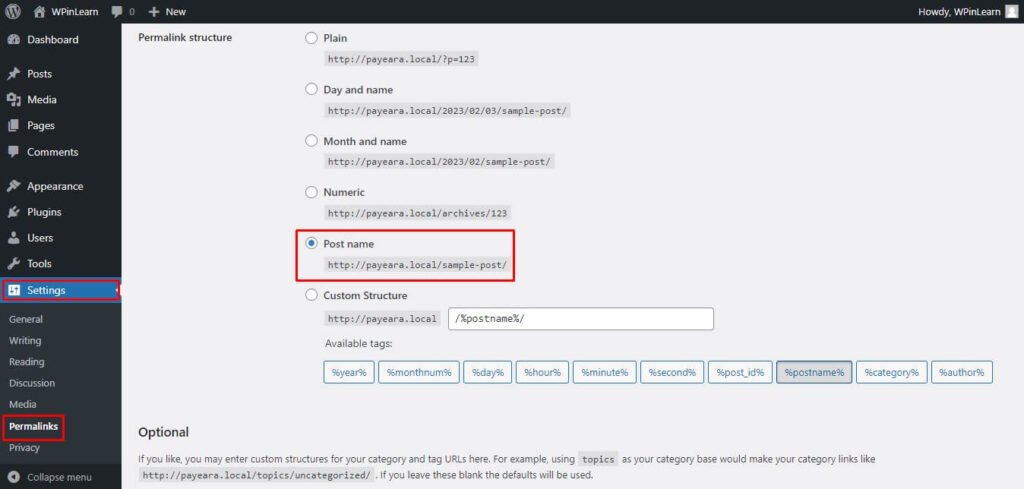 So your all of your primary customization is done.
What are WordPress Plugins and Installing Plugins
So you have customized your WordPress site successfully. It's time to WordPress plugin. A WordPress plugin: What is it? A piece of software that "plugs into" your WordPress website is known as a plugin. You may build almost any type of website, from ecommerce stores to portfolios to directory sites, using plugins, which can extend or add additional capabilities to your site.
We have a complete tutorial on how to install a WordPress plugin.
The Most Popular WordPress Plugins You Will Need
Your website's functionality and performance can be considerably improved by picking the appropriate WordPress plugins. You should think about including the following WordPress plugins on your website:
You can read our complete guide to the most popular WordPress plugins, and the best free SEO plugins for optimizing your WordPress blog to ranking top on search engines.
Contact Form Plugin: How to Add a Contact Form
A contact form is required on all websites. It enables users to send you direct emails. To add a contact form to your website, which WordPress does not come with by default, you will need a WordPress form builder plugin.
Utilizing the WPForms Lite plugin is advised. It is a free variant of the well-known WordPress contact form plugin WPForms.
WPForms is used on more than 5 million websites!
Enter WPForms in the search box on the Plugins » Add New page to begin the installation process. You must then select "Install" and then "Activate." After activation, you must visit the WPForms > Add New page to build your first form.
The WPForms builder interface will then be displayed. You must first give your contact form a name before selecting the "Simple Contact Form" design.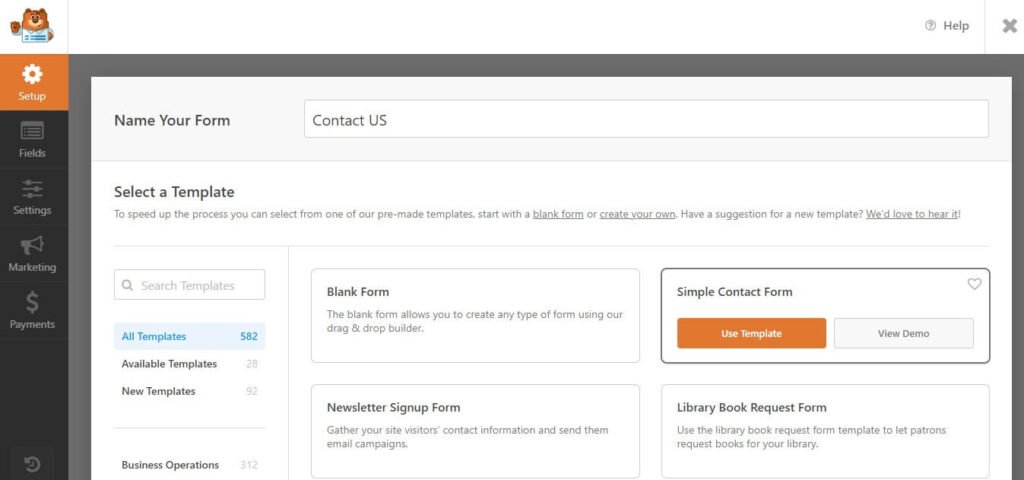 Now, WPForms will build a straightforward contact form for you with all the necessary fields. Any field can be modified by clicking on it, and you can even add new fields from the left column.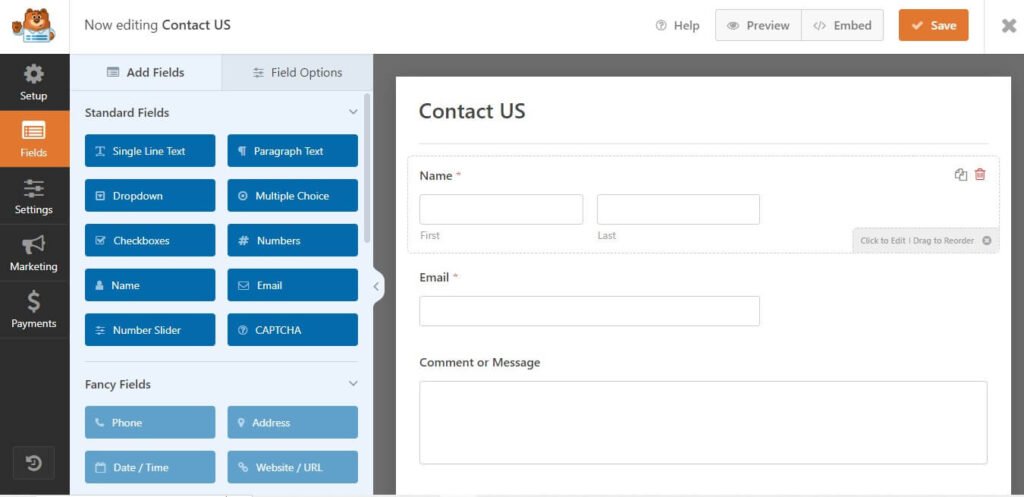 After finishing editing the form, click the save button in the top right corner to save your changes before leaving the form builder.
By selecting Pages » Add New and giving it the name "Contact Us," you can now build a new page in your WordPress blog. You must input the WPForms block into the editor on the edit screen.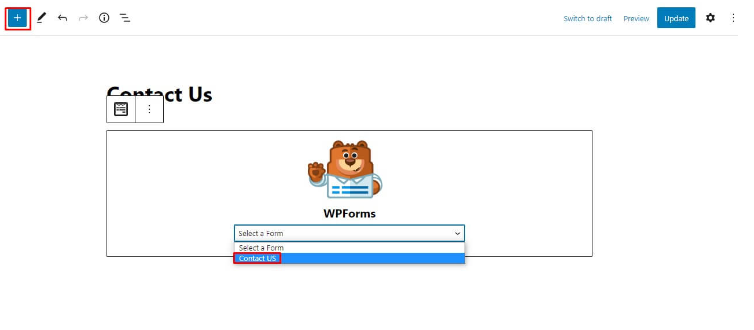 In the editor, WPForms will then load a live preview of the form you selected earlier from the drop-down menu.
To view your contact form in action, save and publish the page and visit it in your browser.
The best feature of WPForms for bloggers is that it grows with them. You may use it to construct reader surveys, polls, guest post submission forms, and more, in addition to straightforward contact forms.
Page Builder Plugin: How to Make Your Blog Page Beautiful
Without using any code, WordPress page builders are plugins that let you create your pages from scratch just inside the WordPress dashboard.
Starting from scratch to create a website might take a lot of time and money. Use a drag-and-drop website builder instead, which is typically less expensive and simpler to use.
You may quickly drag and drop pieces to create the precise layout you desire using a page builder. Additionally, since the majority of page builders are entirely responsive, your website will look fantastic on any device.
Without writing a single line of code, you can create, edit, and adjust the design of your website using WordPress page builders.
To learn more about page builders, you can read our complete guide to the best WordPress builder.
Create And Publish Your First Blog Post
Click on the "Posts" tab. Add New to your WordPress dashboard to start writing your first blog article.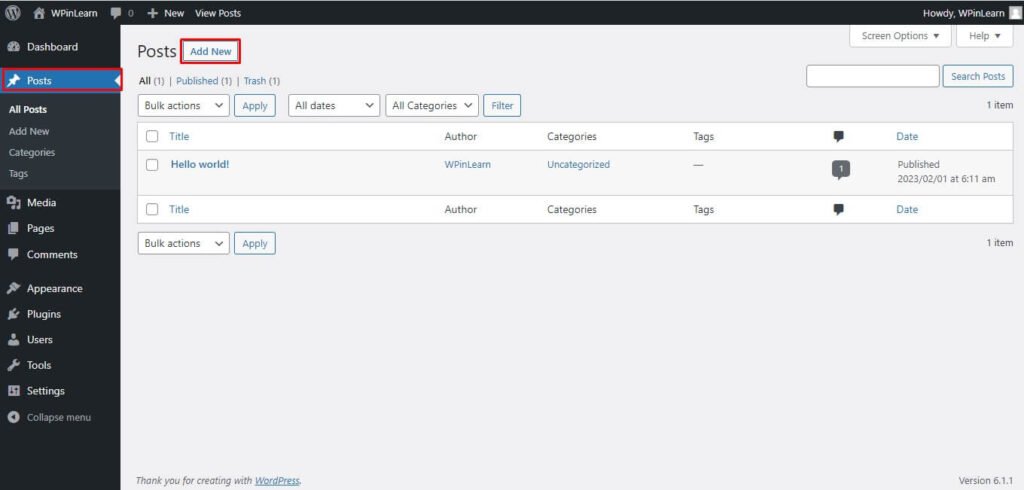 You can compose your first blog post in the editor section that you will see.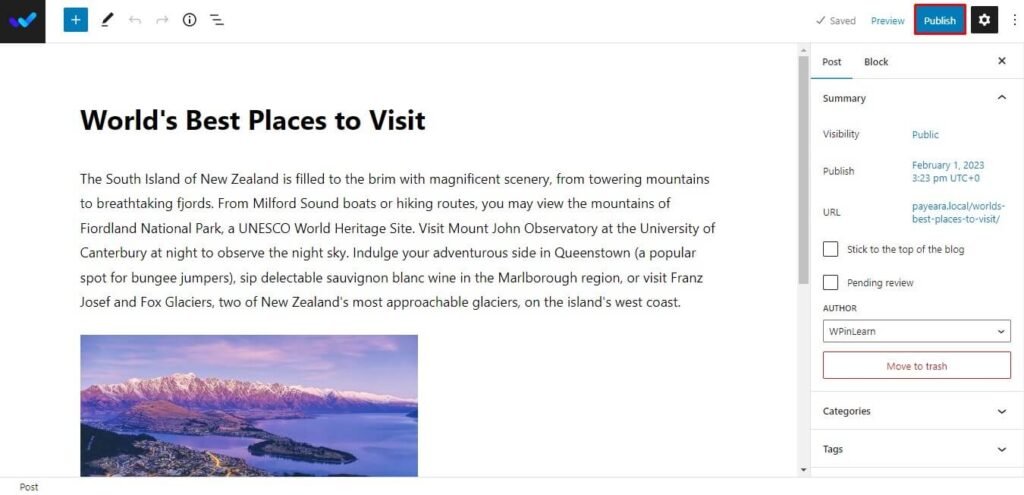 With WordPress' block-based Gutenberg editor, you can design stunning content layouts for your blog entries. After finishing your article, click the "Publish" button in the top-right corner of the screen to make it visible to everyone.
For your convenience, we have a detailed guide on how to publish a post on WordPress. This may help you. 
For more WordPress tutorial you may read all of our beginners steps guide.
A Little Bit Overview of Gutenberg Block Editor
A new way for editing and creating content on the WordPress platform is the Gutenberg Block Editor. It does away with the traditional editor in favor of a block-based interface that makes designing and formatting pages and posts simpler. Users may easily and visually add a variety of content kinds, such as text, images, videos, lists, buttons, and more, using the blocks.
Advanced capabilities of the editor include the ability to preview changes in real-time, reusable blocks, and configurable columns. The Gutenberg Block Editor aims to simplify the process of creating and managing content while also enhancing the user experience.
So you may read our guidelines on the best 15 Gutenberg blocks that will help you create an engaging blog post.
You may also want to know about the most useful 30 Gutenberg single blocks you should use and the best Gutenberg page builder for creating the most beautiful pages with Gutenberg.
How to Index Your Website to Search Engines
You can follow these steps to have search engines like Google index your website:
Enter your sitemap URL and the URL for Google Search Console's "Sitemaps" option on the left menu, then click "Submit."
You can usually find your sitemap at one of these URLs:
yourwebsite.com/sitemap.xml
yourwebsite.com/sitemap_index.xml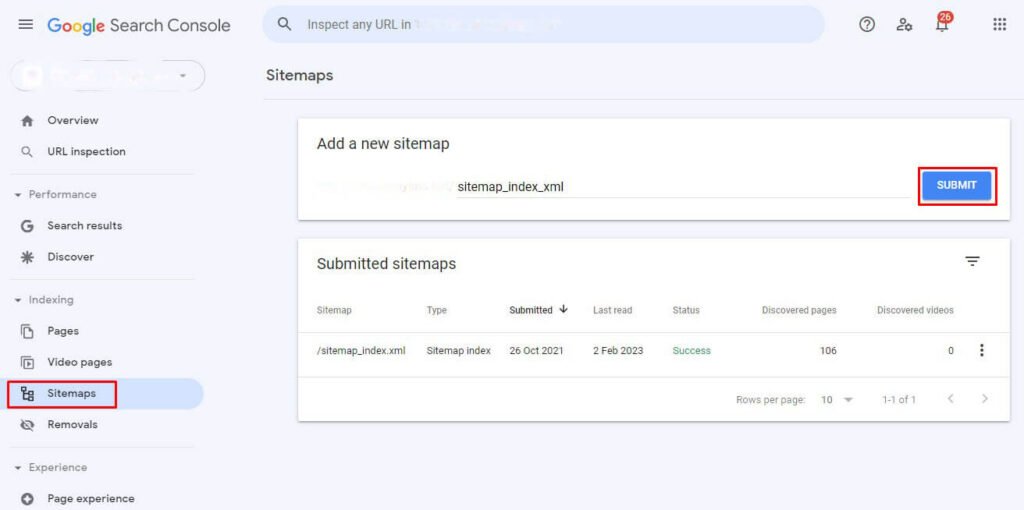 You may read this guide on how to get your new WordPress site indexed, for more detail.
We recommend you use RankMath or Yoast SEO for your WordPress blog's SEO optimization.
How to Get Your Blog to Rank on Google or Other Search Engines
There are a lot of actions you can take to increase your website's visibility and search engine optimization (SEO) in order to get your blog to rank on Google and other search engines. Here are some methods you can employ to raise the ranking of your blog:
1. Run a keyword search.
Choose the search terms that apply to your blog and that people use to find it.
2. Optimizing your content
Make sure your blog's content is optimized for the keywords you want to rank for. Use your keywords throughout the text, including the title, headings, and subheadings.
3. Improve the technical SEO of your website.
Improve the technical SEO of your website.
4. Build high-quality backlinks
The rankings and exposure of your website might be increased by backlinks from trustworthy websites. By producing top-notch content and contacting other websites to request links back to your website, you may increase the number of backlinks to your website.
5. Use meta tags and descriptions
Meta descriptions and tags give search engines details about your website, which might raise its rating.
6. Promote your blog
To increase visibility and traffic to your website, share your blog on social media and other websites.
7. Monitor your website's performance
Track the performance of your website with tools like Google Analytics to understand how your efforts are affecting your ranking.
You can raise your website's ranking and exposure on search engines by adhering to these procedures.
How to Make Money With Your Blog?
After setting up your own blog and personalizing it to your tastes, you may be wondering, "How can I actually make money blogging?"
There are many effective strategies to monetize your site. However, a get-rich-quick technique does not exist.
You will be rewarded if you are willing to work hard and put forth the effort. Remember that there are no shortcuts.
Here are a few of the most effective strategies to monetize your blog.
Ads Monetization: Display Google Ads on Your Blog
Ads on blogs are a common way for bloggers to monetize their sites. If you want to monetize your blog, Google AdSense is the way to go.
It is the biggest platform for bloggers and publishers to advertise. By serving as a go-between for you and the advertiser, Google lets them compete for keywords that match your content. This enables you to obtain the best pricing for the advertisements.
Affiliate marketing: Earn Income Through Product Recommendations
The second most popular method of generating revenue for bloggers is affiliate marketing. In essence, you pass along recommendations for your preferred goods and services to your readers in exchange for a referral fee.
To be successful at affiliate marketing, you must promote reputable goods and services that you currently use and respect. You can promote affiliate items and earn extra money by using one of the many affiliate marketing plugins and solutions available for WordPress blogs.
Physical or Digital Product Offerings: Sell Things to Make Money from Your Blog
Many bloggers develop an online store, start selling things, and establish a presence on an ecommerce platform in order to monetize their blogs. You may sell both physical and digital goods. In the case of an adventure travel blog, you might provide t-shirts bearing your brand or electronic travel guides to far-flung locales.
You must set up a mechanism for accepting payments, whether your products are tangible or digital. When you sell real goods, you need to consider how to store your inventory, plan to ship, and manage taxes and tariffs. Because digital items may be supplied electronically, their logistical requirements may be less complicated.
Selling Courses on Your Blog
You could make money by setting up and charging for online courses or coaching packages if your blog lends itself to training services.
You can turn your WordPress blog into a learning management system by using a WordPress LMS plugin. We recommend that you use Academy LMS, one of the best and fastest WordPress LMS plugins available. You can use this plugin to sell courses on your blog and make money.
By entering the coupon code: WPinLearn, all WPinLearn users will receive a 40% discount on any time from Academy LMS.
How to Promote Your Blog?
You can use a blog as a very useful tool. You'll want to make sure your blog receives the traffic you want because you're likely to spend a lot of time finding and creating the greatest content to offer to your target audience.
Writing SEO Optimize Post Regularly
Regularly publishing blog entries that are SEO-optimized is crucial for advertising your website and raising its search engine ranking. The technique of optimizing your blog for search engine results pages (SERPs) for pertinent keywords is known as SEO, or search engine optimization.
Regularly publishing blog entries that are SEO-optimized will help your site become more visible and attract more readers. When producing blog entries that are SEO-optimized, keep the following factors in mind:
Promote Your Blog by Guest Posting
Ask to be a guest blogger on other blogs in your niche by getting in touch with them. By doing this, you'll be able to expand your audience and establish your authority in your industry.
Promote Your Blog Through Email Marketing
This marketing strategy fosters connections and attracts new readers to your blog. Create a lead-based email list, write enticing email subject lines that grab attention, and curate email content that inspires readers to visit your blog as a starting point.
It takes time to build an email list, but with a few tips, you can start out strong. Add a subscribe button, a sign-up form for exclusive discounts or promotions, or an opt-in for a loyalty program, for instance, to your website.
People in general enjoy a good deal and frequently have no issue disclosing their email address in exchange for gifts or a promo code.
Promote Your Blog With Social Media
Don't undervalue the power of social networking sites to drive visitors to blogs. Share your most recent blog article on various social media platforms. To help the relevant people locate your content, use hashtags to identify it.
Particularly on more visual networks like Instagram, think about posting a captivating image or video. Social media users are frequently persuaded to pause and read a post by images. You'll eventually get a sense for which social media platforms are most appropriate for your specialty, allowing you to concentrate your efforts there.
On each of your social media profiles, include a link to your blog. Visitors may easily catch up on prior postings thanks to this straightforward process, and they might even choose to share information on their own social media.
Promote Your Blog with Paid Ads
Despite the fact that we all prefer free things, paid advertising has some advantages. Paid advertising spaces may increase visibility and bring more visitors to your blog.
Ads on search engines like Google are one way to employ paid advertising to promote your site. These marketing strategies can also show your advertisement to visitors who have already been to your website, giving them a polite reminder to return.
Reach Out Influencer
Influencer marketing may provide your brand credibility in addition to a host of other advantages, like higher leads and sales, a bigger social media following, and improved website traffic.
Try to establish a relationship first, though, before asking for a favor. Linking from your blog to an influencer's social media or blog postings is one way to accomplish this.
Your audience might grow as a result of an influencer partnership. Influencers market products in a way that directly appeals to their fan bases. Influencers explain what works for them and how it might work for their followers, just like a friend would.
Answering Quora Questions
Did you realize that Quora can be a useful source of traffic for your blog? You can locate a ton of people who have questions on Quora by conducting a quick search.
Find your area of expertise and respond to comments. Ensure that you offer sincere responses rather than repeatedly spamming folks with a link to your blog. Consider making your blog's URL the only one in your profile so that people may easily refer to it if they find your knowledge to be helpful.
Network and Comment on Related Blogs
Even though it seems obvious, networking and leaving comments on other blogs that are relevant to your own is an excellent strategy to promote your own blog. They'll be more likely to visit your blog if you offer viewers (and even the blog owner) helpful information. Make sure your information is pertinent to the subject at hand. Simple blog links in comments are frequently perceived as spam.
Thanks to the availability of free blogging platforms and a wealth of tools that may help you along the way, establishing a blog in 2023 is simpler than ever. The procedures are the same whether you want to start a personal blog or a blog for your business. To make your blog match your brand, you must pick a blogging platform, a domain name, and a web hosting company.
Regularly publishing pieces that are SEO-optimized and promoting your blog through several platforms, like social networking and guest posting, will help your site become more visible and popular. Your blog has enormous growth and monetization potential, and with the correct strategy, you can make it a lucrative business.
We hope you liked this blog post about how to be a blogger a step-by-step. If you liked this blog post, please subscribe to the WPinLearn YouTube channel for WordPress video tutorials. And join WPinLearn community and follow us on Twitter.
FAQs: Frequently Asked Questions
What skills do I need to become a blogger?

The most valuable skills for blogging success are writing skills and time management skills. 

Is it possible to start a blog without WordPress?

Yes, there are a number of other blogging platforms out there. We compared them all, and by far, WordPress is the greatest website builder available for creating a blog with total control and independence.

Can I create a blog without using a host?

That is not feasible. Your website's files are kept on a web host. Every website requires hosting. You will require your own domain and web hosting in order to launch a blog.

What is the starting cost of a blog?

Depending on the kind of blog you want to start and the tools you decide to use, the cost can vary substantially. WordPress is free to use. The total cost of your domain name per year is between $10 and $15. The Price to Host a Website Shared hosting for your website is available for $2.49 to $13.95 per month (the more popular or well-known sites will be a lot more).

Is it possible to use Google Adsense to monetize a WordPress blog?

Your WordPress blog can be used to generate income from Google AdSense.

Why do the majority of bloggers fail?

Lack of relevant, interesting content is one of the key causes of blogs' failures. Truth be told, "original written content." 

Is a career in blogging successful?

Yes, it is the answer. Blogs will continue to exist. In actuality, it will expand in the years to come.

Can I create a blog in my native language?

Yes, WordPress can be used in different languages. During installation or through the Settings tab in the WordPress admin area, you can choose your language. More than 56 languages have been partially translated into WordPress, and dozens more have been entirely translated. There are numerous great WordPress plugins and themes that are multilingual. A theme or plugin that you want to employ on your website can also be translated.

Can I later change my blogging platform?

Beginners frequently make the error of selecting the incorrect blogging platform when starting a blog for the first time, such as Medium, Tumblr, Blogger, or others. The good news is that switching to WordPress is simple.

Is blogging a difficult way to earn money?

Not at all, but it takes time and effort to make money by blogging. Despite the fact that blogging can be utilized to generate money, it won't enable you to "become rich quick." Before you can begin making any money, you must first develop an audience.