This blog is a basic beginner's guide and it will show you how to install a theme in WordPress step by step. It's not as hard as you think!
Installing a theme can be tricky if you haven't done it before. There are so many themes to choose from, but not all of them are worth your time. This blog will go through the process of installing a theme and what you should look for.
This task is easy for WordPress users, but it is hard for WordPress beginners. That's why we are discussing WordPress themes with this blog.
WordPress is the most popular blogging tool worldwide and the most frequently used website builder in the world. You can make an amazing website for your blog or business using WordPress. But there is a problem with that. There are too many themes, and it can be difficult to choose the best one. This blog will help you choose the best theme and install it on your WordPress website.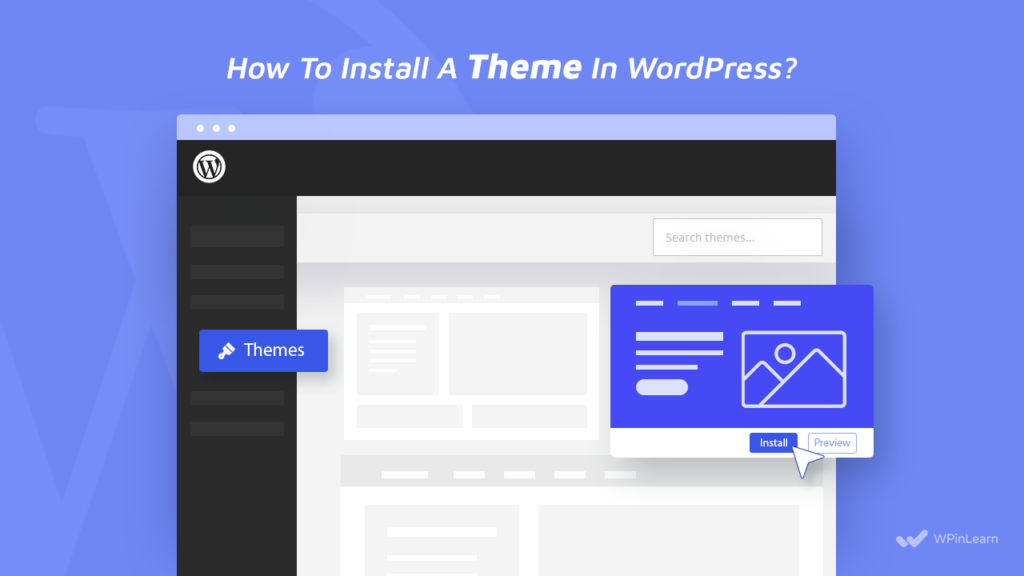 What is a WordPress theme?
WordPress is a popular content management system. WordPress themes are templates for displaying content. A theme contains images, styles, layouts, and formatting. By using WordPress themes, you can completely change the way your website or blog looks.
Popular WordPress themes are available in many free as well as different premium versions. You can download free themes or purchase premium themes to change the look of your website.
You can read our article Every Thing You Need to Know About WordPress to know more about WordPress themes.
Most Popular free themes from WordPress in 2022. You will wonder know there are 9697+ free Themes available in the WordPress.org repository. It's very difficult for beginners to choose the right theme for blogging. So from there, here is the most popular 10 best free theme list of 2022. I think this list will help you to find the right theme for your blog.
Also you can check our complete guide on Best WordPress Theme for eCommerce.
How to choose a blog theme and what are the things to look out for?
Deciding on the theme of your blog is a crucial step in your blogging journey. You need to choose a theme that reflects your style, taste, and brand. It is best to choose a theme that supports your business and gives you an edge over your competitors.
The theme says how your blog is going to look and feel. This means your blog theme not just gives the first impression but also attracts and converts your visitors. But choosing a theme is not an easy task and people are often confused about what to look for.
This is where you can have fun and you don't have to be techy to get a great theme up and running. Such as if you are a makeup artist, find a great theme that is attractive to your target audience and you can easily update on a regular basis.
Also, make sure you get a theme that matches your WordPress theme. The WordPress theme will be the background and header of your website so it needs to be on the same page.
You can find tons of themes on various sites and the only thing you need to do is to choose the right theme that will last you a long time.
How To Install A WordPress Theme?
We are going to cover two methods for installing a WordPress theme by searching from the WordPress repository and uploading a zip file.
Method 1: How To Install Theme From The Repository
This is the easiest method of installing a WordPress Theme. To use this method to install a theme click on the 'Appearance' menu. Choose the Themes option. You will be taken to the Theme Installation page. Now, click on Add New button from the top of the left corner.
Type the name of the theme you want to install.
Click your select theme and "Install" the theme.
Now click "Activate" the theme.
Congratulation, you have successfully installed a theme for your WordPress website.
Method 2: How To Install Theme By Uploading Zip File.
Another method is to install the theme by uploading a Zip file. You need to download it first to upload and install a zip file.
Good resources for finding a great theme include the official WordPress theme repository, ThemeForest, and Creative Market. WordPress.org is a good place to start because most of the themes here are free.
Now to upload a Zip file of the theme click the 'Appearance' menu. Choose the Themes option and click "Add New".
Now click "Upload Theme" and choose the theme from your computer, after choosing click on "Install Now".
Now click on "Activate" and your theme installation by uploading is over. Your WordPress theme is ready to customize.
You have completed two methods to install the WordPress theme.
This is all about installing a theme for your WordPress site. I think this blog will help you to install a WordPress theme.
Final Word
We always try to help our visitors with the right information. I hope you will be able to install the WordPress theme with the lessons in this post. To get more information like this you can join our Facebook community and also subscribe to our YouTube channel.