If you're looking for a way how to turn off comments on WordPress posts without a plugin, this post is for you. We'll show you how to turn off comments on WordPress posts without any fuss easily.
Having comments enabled may be a terrific way to interact with your audience, but many WordPress users wish to turn them off for good reasons. WordPress security issues might arise from having a comment area, and other websites just don't need one.
So if you're tired of dealing with spam comments or just don't want to deal with comments at all, then read on to find out how to turn off comments on WordPress posts without a plugin.
Why You Should Allow Comments on WordPress Posts?
Why do so many bloggers continue to allow comments in light of the possible hazards they carry? The following are some advantages of allowing comments on your website.
Every successful WordPress website has a following of devoted users. People may share experiences, interact with other readers who share their interests, and feel a feeling of ownership and pride when you enable comments on your website.
Your audience members will feel noticed and valued when they see that you are reading and communicating with other followers, even if you are unable to answer every remark.
Visitors to your website may easily provide feedback by using the comments area. A large portion of this will be natural. It's a fantastic sign that the topic has struck a chord with your audience if a post receives a lot more comments than usual and a flood of supportive remarks.
They'll return to your website to see your or another reader's response to a remark they've left. Think about if each commenter came back to your website several times to respond to remarks. Your website's page visits would skyrocket!
Having commentators who often visit your site might boost ad income or enhance the likelihood that visitors will perform the desired action, such as subscribing to your email list, making a purchase, leaving a tip, following you on social media, and more.
Why Do Not Allow Comments on WordPress Posts?
While allowing comments on your website can seem like a wise decision, keep in mind that everything has a flip side. After discussing the advantages of comments, let's look at any potential drawbacks.
Bloggers could, for instance, publish pieces like announcements on which they don't wish to accept comments. In these situations, it's simple to block comments on those particular articles or pages.
WordPress is frequently used by small business owners to build their websites. The majority of the static pages on these corporate websites, such as services, about us, contact, etc., do not have a blog area. It makes no sense to enable comments under such circumstances.
Another typical situation is when corporate sites decide to completely disable comments in order to stop spam. Disabling the comment area will surely address the issue, even though you can always apply spam prevention strategies (which we'll discuss later in this post).
While receiving feedback and interacting with your audience is wonderful, monitoring comments takes time. You'll need to read every comment, reply to each one, and try to prevent spam comments. When your site just has a few visitors, you might be able to control the situation, but as your readership increases, things can easily spiral out of control.
Regardless of your motivation, you can absolutely turn off comments and even completely eliminate the comment section from your WordPress website.
Method 1: How to Turn Off Comments on WordPress Posts for All Upcoming Posts
To disable comments on all your future posts, navigate to Settings > Discussion in the WordPress admin panel's left sidebar. Now you have to uncheck "Allow people to submit comments on new posts".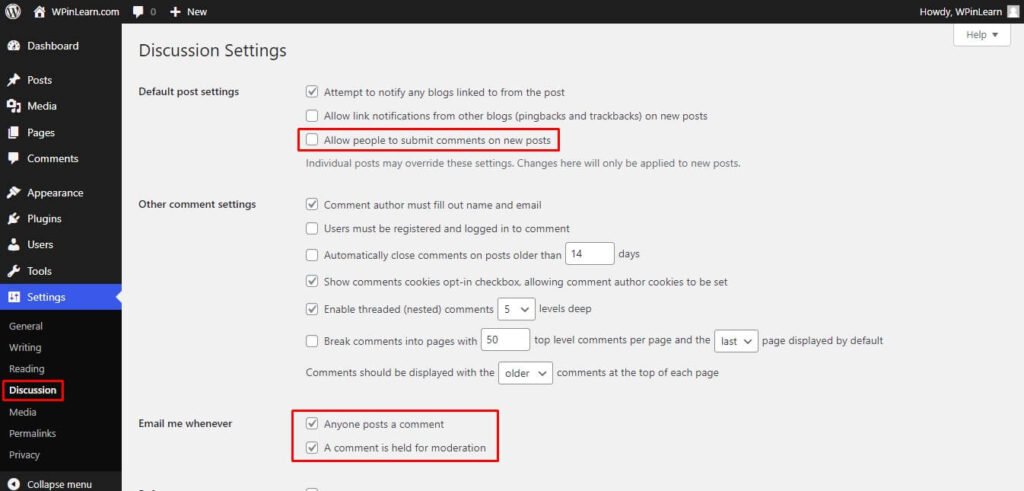 You can also enable or disable comment notification via email by unchecking or checking 'Anyone posts a comment'. Then scroll a bit down and click on save changes and all of your future posts' comments will be disabled.
Method 2: How to Turn Off Comments on WordPress Posts for a Specific Post
All of your posts have comments switched on by default. WordPress does, however, provide you with the option to enable or disable comments on particular posts and pages.
To do that, open the post or page you want to disable comments on. Once the post or page opens, will you see a discussion meta box in the right site settings panel? If you can't see it, please make sure you click on the Post tab in order to view it. Now uncheck the "Allow Comments" box, and your post comments will be disabled.
It's all about disabling comments on WordPress posts. Now you know the details about the pros and cons of WordPress comments, and you know how to turn off comments on WordPress posts without a plugin.
If you find this article helpful, then please follow us on Twitter and join our Facebook community for our new article updates. For WordPress video tutorials, please subscribe to our YouTube channel.
FAQ: Frequently Asked Questions
Are WordPress comments help my SEO?
The answer is dependent on a few variables, as with most SEO-related inquiries. But if you keep a legitimate, reliable, and kind comment area on your site, then your postings may do better in search engine rankings.
Is WordPress' default commenting system the best one for SEO?
No doubt, the WordPress CMS and the WordPress commenting system are the best for SEO.
What is the best free comment plugin for WordPress?
There are several WordPress comment plugins on WordPress.org. Here is a complete guide to the WordPress comment plugin. You can read on to find yours.