Have you ever wondered, "Should I allow pingbacks and trackbacks on my WordPress posts? If you're not sure what these are, or if you're wondering how to disable them, read on!
We'll give you all the information you need to make an informed decision about whether or not to allow these features on your WordPress site.
Should I allow pingbacks and trackbacks on WordPress posts? In this post, we will answer this question deeply, and we will also show you how to disable pingbacks and trackbacks on all your WordPress posts.
What is a Pingback?
Pingbacks signal that another website has connected to you from your WordPress website. Your response to the pingback notice will be either "Approve It," "Trash It," or "Spam It." Typically, the message looks like this.
Your consent is required for a new pingback on the article at [your post's url]
What is a Trackback?
The purpose of a trackback, also known as a linkback, is to notify bloggers when other people have linked to their postings on a website.
The easiest way to understand a trackback is as a person tapping on someone else's shoulder and asking permission to use anything they said in another discussion. As an illustration, one person discussed his passion of baseball in a blog post.
Additionally, someone else wants to write about this and quote him. He does this, and I bring up his post. The first person copies his trackback URI or a phrase to that effect into the second person's blog post. The original poster should now be informed of the trackback so that he may visit it and read what I had to say about baseball.
What Happens if I Approve a Pingback?
If you approve it, Pingback, WordPress will add a comment to your post, linking to the other site.
Do I Need to Permit Pingbacks and Trackbacks?
This may or may not be a good idea; if the website in question has a solid reputation, it could be a good idea to connect to it and inform your website's users that they can find you through the link. To report spam, click the "Spam It" link in your email if it is an effort. Otherwise, simply hit "Trash It."
How to Allow/Disallow Pingbacks And Trackbacks Notifications on WordPress?
You can disable trackbacks by going to your 'Settings > Discussion' section in your WordPress dashboard, and then unchecking the "Allow link notifications from other blogs (pingbacks and trackbacks)" option.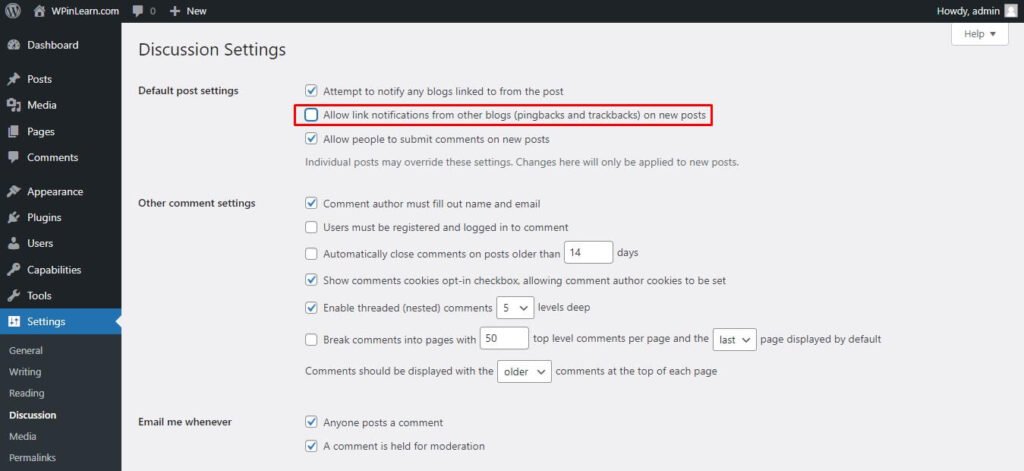 This will apply to your next and all upcoming new posts.
How to Disable Pingbacks And Trackbacks on WordPress Posts?
You can also disable pingbacks and trackbacks for any specific post. To do that, go to the post, click on discussion from the right setting, and uncheck "Allow pingbacks & trackbacks". Then the job will be done.
Should I allow Pingbacks and Trackbacks on WordPress Posts?
You have the choice. You can at least see who is connecting to you if you allow yourself to be notified when you receive a pingback. The issue is that the majority of pingbacks will come from scam sites that are vying for your approval in the hopes that it will boost their SEO efforts. Therefore, it could take a lot of your time to approve, remove, or flag these pingback comments as spam.
The important thing to keep in mind in this situation is that links to your website will continue to remain on the connecting website even if you disable pingbacks and trackbacks on your website.
Pingbacks and trackbacks, in our opinion, are fairly out-of-date concepts and should not be enabled on your WordPress site.
Should I allow pingbacks and trackbacks on WordPress posts? Now you may know the answer in detail and also know how to disable them.
If you liked this article about pingbacks and trackbacks on WordPress, then please follow us on Twitter and join our Facebook community for our next article update. And if you like to watch WordPress tutorials, then you can subscribe to our YouTube channel to watch WordPress video tutorials.
FAQ: Frequently Asked Questions About Pingbacks And Trackbacks.
Do Pingbacks And Trackbacks help my SEO?

Pingbacks and trackbacks are basically like social media shares. A site will let another site know they linked to their blog post by sending a pingback, or trackback. They do help a little bit, but they are not as powerful as inbound links.

Are Trackbacks and Pingbacks Beneficial?

Pingbacks and trackbacks are two very different things. Pingbacks are a way of letting other bloggers know that you've linked to their blog. Trackbacks alert other blogs that your blog links to theirs, referring to their content in your post. If a blog owner finds your work useful, he can easily pingbacks your post, giving a boost to your blog.

How to Deal with Pingbacks and Trackbacks?

It is totally up to you whether or not to utilize pingbacks and trackbacks. If you're searching for some guidance, a fast internet search will show that most people agree that trackbacks and pingbacks aren't worth the time.