Do you want to create a beautiful website with Gutenberg-powered page builder plugins & without any technical knowledge or a line of code? Here we have covered the best 5 Gutenberg page builder plugins: 1) CoBlocks 2) Spectra 3) Kadence 4) Otter 5) Stackable.
When you plan to build your website with stunning ready blocks like an Advanced Heading, Product Grid, Advanced Image Gallary, or Advanced Video all are shown as separate blocks in the Gutenberg editor with these plugins.
The Gutenberg page builder plugins give you the full power of control to live your website from scratch to finish. You have to control design, color, spacing, and everything sky-high. So let's dive into the features of the best 5 Gutenberg page builder plugins.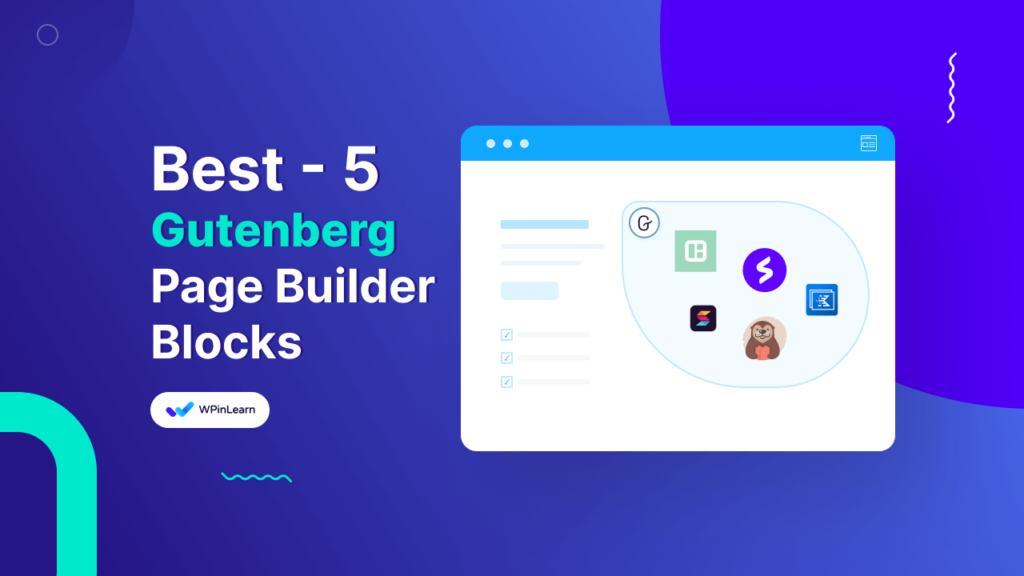 Table of Contents
Best 5 Gutenberg Page Builder Plugins List
CoBlocks
Spectra
Kadence
Otter
Stackable
Is Gutenberg an Editor or a Page Builder?
Yes, we can say Gutenberg is now a page builder because after the release of WordPress 6.1 we can build a website with a fully Gutenberg layout, pattern, template, header, footer & full site editing functionality, that's why we can say Gutenberg is the page builder. But if you need extraordinary functionality experience for building your website you need 3rd party Gutenberg page builder blocks plugins actually.
The Power of Gutenberg Blocks
Gutenberg is now the game changer in the WordPress ecosystem and gives an even better experience for WordPress enthusiasts, designers, users, editors, and business owners. The first thing that you'll notice about Gutenberg's layout. It's a lot more modern and uses block-based design much as we've seen in page builder plugins before.
Now it is a major shift away from the familiar past to the present and the future of WordPress. The Gutenberg Block is like a building block or A combination of ready elements to design, style, and control the behavior of a website.
Gutenberg is Multi-Device Compatibility?
Yes! Of course, Gutenberg is now a fully multi-device supported editor. It is compatible with all devices including mobile, tablet, and desktop. Also with Gutenberg, you can see every version of your webpage without a broken experience.
Let's start the review of the best 5 Gutenberg page builder plugins.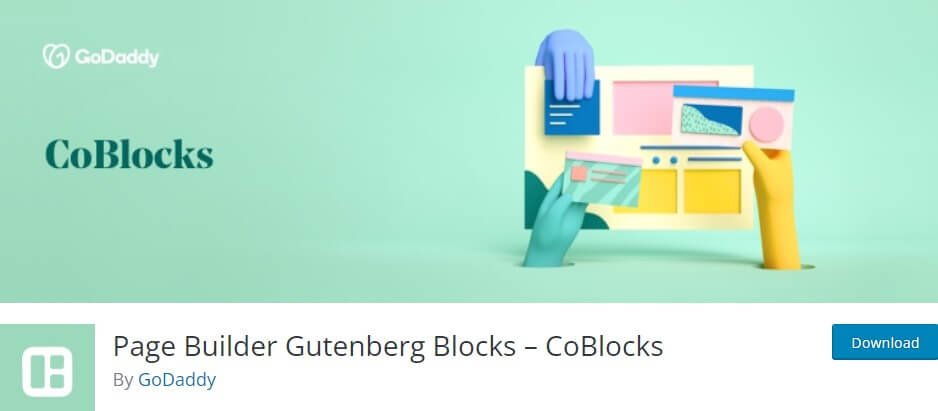 According to the number of active installs, CoBlocks is the most used Gutenberg page builder blocks plugin in WordPress repository. It has more than 500,000+ active users.
It is advertised as a "Page Builder" for Gutenberg, which gives you a general sense of how strong and thorough it is.
Rich Tabor, an American software developer, launched it, and GoDaddy, a hosting firm, later bought it. It is developing quickly and gives you the ability to perform practically anything.
CoBlocks is the page builder you'll ever need because it offers a great combination of extra Gutenberg blocks and page builder features. With CoBlocks new block editor, here you have all the necessary tools to create stunning web pages faster & easy way..
54 blocks are included in CoBlocks, a plugin for block collections. The plugin has more capabilities than just blocks; it also allows you to include rows and columns in your designs.
CoBlocks Blocks Library
With the new square manager, blocks provide you with everything you need to create beautiful website pages. These CoBlocks blocks are = Free of cost to use.

Accordion Block
Alert Block
Author Profile Block
Carousel Gallery Block
Click to Tweet Block
Collage Gallery Block
Counter Block (New!)
Dynamic Separator Block
Events Block
FAQ Block
Features Block
Food & Drinks Block
Form Block
Gif Block
GitHub Gist Block
Hero Block
Highlight Block
Icon Block
Logos & Badges Block
Map Block
Masonry Gallery Block
Media Card Block
Offset Gallery Block
OpenTable Reservations Block
Post Carousel Block
Posts Block
Pricing Table Block
Resizable Row/Columns Blocks
Services Block
Shape Divider Block
Social Profiles Block
Social Sharing Block
Stacked Gallery Block
And More!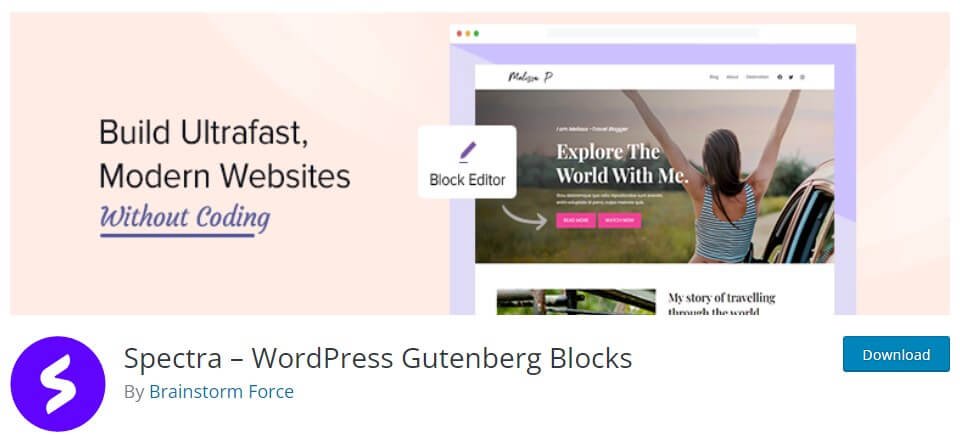 With over 400,000+ active installs, Spectra, originally known as Ultimate Addons for Gutenberg, is unquestionably one of the most popular Gutenberg plugins available right now. It offers 31+ blocks.
Spectra is a visual page builder that is based on Gutenberg, the standard block editor. Everything you would want for complete website construction is included in this fantastic plugin. It includes a ton of blocks, including sliders, call-to-actions, Lottie animations, forms, reviews, and post layout, among many more.
Early in 2022, the plugin underwent a name change to Gutenberg in an effort to improve upon its predecessor's stability and loading speed.
Flexbox, another block of Spectra, enables you to precisely manage how your web page's parts are laid up. Spectra provides templates and wireframes in addition to roughly thirty Gutenberg blocks (pre-filled page structures).
The Brainstorm Force team, which sells around fifty items like the Astra theme, Ultimate Addons plugins for Elementor, Ultimate Addons for Beaver Builder, and Convert Pro plugins, is responsible for these stunning mechanics.
Spectra Blocks Library
These Spectra blocks are= Free of cost to use:
Container Block
Image Block
Star Ratings Block
Forms Block
Tabs Block
Lottie Animation Block
Review Block
Taxonomy List Block
How-to Block
FAQ Block
Inline Notice Block
Heading Block
Blockquote Block
Call To Action Block
Content Timeline Block
Google Map Block
Icon List Block
Info Box Block
Marketing Button Block
Buttons Block
Post Carousel Block
Post Grid Block
Post Timeline Block
Price List Block
Social Share Block
Table Of Contents Block
Team Block
Testimonial Block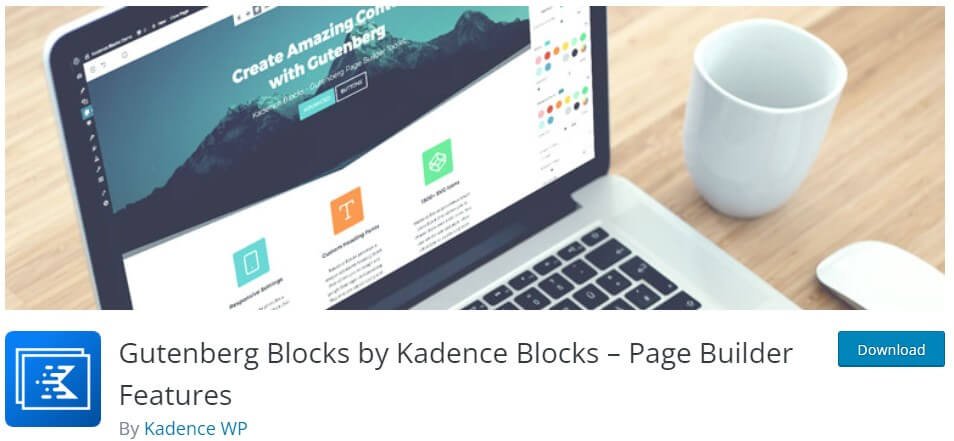 Kadence is another popular Gutenberg page builder plugin. It's powered up 300,000+ websites. Kadence Blocks expands Gutenberg's editing capabilities with new custom blocks and features so you can easily construct beautiful webpages without knowing any coding.
Kadence Blocks is your toolbox that enables the WordPress block editor to produce stunning content, which is often only achievable through plugins for page builders. With attention to speed, accessibility, and extensibility, each block is carefully designed.
Although the WordPress Block Editor is capable of many things, it is quite constrained when it comes to creating layouts. This is particularly accurate when compared to well-known page builders. This plugin eliminates such restrictions and gives you more possibilities for creating dynamic, adaptable pages by adding 21 new blocks.
Kadence Blocks features colored block icons, which make them easier to materialize when searching from an ergonomics and handling perspective.
With more than 30 templates accessible, the library of pre-written parts is fairly large. Kadence Blocks' "Design Library" also provides wireframes and templates for websites with several pages.
Kadence Blocks Library
These Kadence blocks are = Freemium of cost to use:
Row Layout Block
Advanced Gallery Block
Form Block
Advanced Text Block
Advanced Button Block
Tabs Block
Accordion Block
Testimonials Block
Icon Block
Spacer / Divider Block
Info Box Block
Icon List Block
Countdown Block
Posts Block
Table of Contents Block
Lottie Animation Block
And More!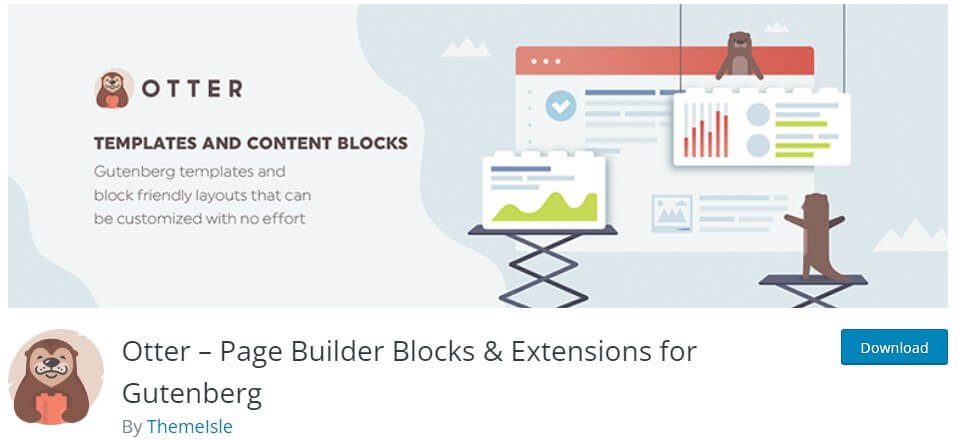 Otter is a Gutenberg Blocks page builder plugin that gives the WordPress Block Editor (commonly referred to as "Gutenberg") more features for a better page building experience without the need for conventional page builders like Elementor and Divi. It has more than 200,000 active installations.
More importantly, the ThemeIsle store, which sells themes like Neve, is responsible for creating the fourth Gutenberg plugin on our list. It offers a simple addition to your website that has little bearing on its performance. In addition, it provides you with more than 23 additional blocks to play around with and alter as you choose.
Bloggers and company owners in need of features like pricing and service modules should strongly consider Otter Blocks. Additionally, it provides all-purpose blocks to assist you in creating better headers and pages.
Not to brag, but Otter Blocks is unquestionably a great option for almost any type of website. In addition, they constantly update the plugin to include new blocks or features and have a fantastic support staff.
Otter Blocks Library
These Otter blocks are = Freemium of cost to use.
Section Block (with up to six columns)
Advanced Heading Block
Button Group Block
Slider Block
Accordion Block
Tabs Block
Maps Block
Countdown Block
Contact Form Block
Masonry Gallery Block
Posts Block
Product Review Block
Service Block
Pricing and Pricing Section Block
Sharing Icons Block
Plus: Additional Blocks and 50+ Animations
If you're seeking a full bundle, one of the greatest block plugins for WordPress is Stackable. There are 39 new blocks in it, ranging from basic components to intricate features (such as headers and testimonials). Additionally, every block in this plugin is made to be completely responsive.
When you activate the Gutenberg plugin, the creation wizard walks you through the process of selecting which sorts of blocks to enable. the ability to turn on or off the blocks of your choice.
This plugin is a powerful all-purpose tool that offers functionality that is helpful for bloggers, owners of e-commerce websites, and small business owners. The Stackable theme, which was made to function flawlessly with both the Block Editor and the other capabilities of this plugin, is also available.
The plugin's management interface is rather vibrant, but we actually enjoy it. The Stackable design library's wireframes are accessible. On the official WordPress directory, a custom theme that works with the plugin is offered without charge.
Stackable Blocks Library
These Stackable blocks are = Freemium of cost to use:

Container Block
Posts Block
Feature Grid Block
Accordion Block
Image Box Block
Feature Block
Icon List Block
Call to Action Block
Card Block
Header Block
Count Up Block
Video Popup Block
Pricing Box Block
Testimonial Block
Team Members Block
Notification Block
Number Box Block
Expand/Show More Block
Button Block
Blockquote Block
Divider Block
Spacer Block
And More!
This is all about our updated list of the Best 5 Gutenberg Page Builder Plugins. Please feel free to openly express your opinions in the comments if you have any queries about improving this list.
There are many things the WordPress Block Editor can accomplish on its own. However, its block-based design provides countless opportunities for growth and innovation. Each of the top block WordPress plugins mentioned above may assist you in producing a more unique, dynamic design for your website.
If you liked this blog post about the best 5 Gutenberg page builder plugins, if you have any open questions for this list or anything in WordPress please join our Facebook community & follow us on Twitter. Also, can subscribe to our YouTube channel if you like WordPress video tutorials.
FAQs: Frequently Asked Questions
Is Gutenberg a plugin or a block?

No, Gutenberg is not a random plugin, WordPress' default editor. But it has blocks library for design a website.

Is the Gutenberg Editor Required for WordPress Website?

Actually, Gutenberg is the default WordPress editor, you don't need to install it separately. Also, it can be empowered by your WordPress website-building experience using 3rd party block plugins.

WordPress Gutenberg Blocks vs Elementor Page Builder Which is Best?

Obviously, Gutenberg Blocks is the best, because of faster webpage load time, small page size, fast rendering time & many others from Elementor.