Are you looking for how to add an admin to WordPress? Adding an admin to your WordPress site is a simple process that can be completed in just a few steps.
Adding an extra set of hands to help manage your WordPress site can significantly help. It's essential to have multiple administrators on your WordPress site because if something happens to you, you need someone who knows the ins and outs of your website to step in and save the day.
Add an admin to WordPress site is an important step and one that you should take seriously. This article will show you how to add an admin to WordPress in just a few clicks.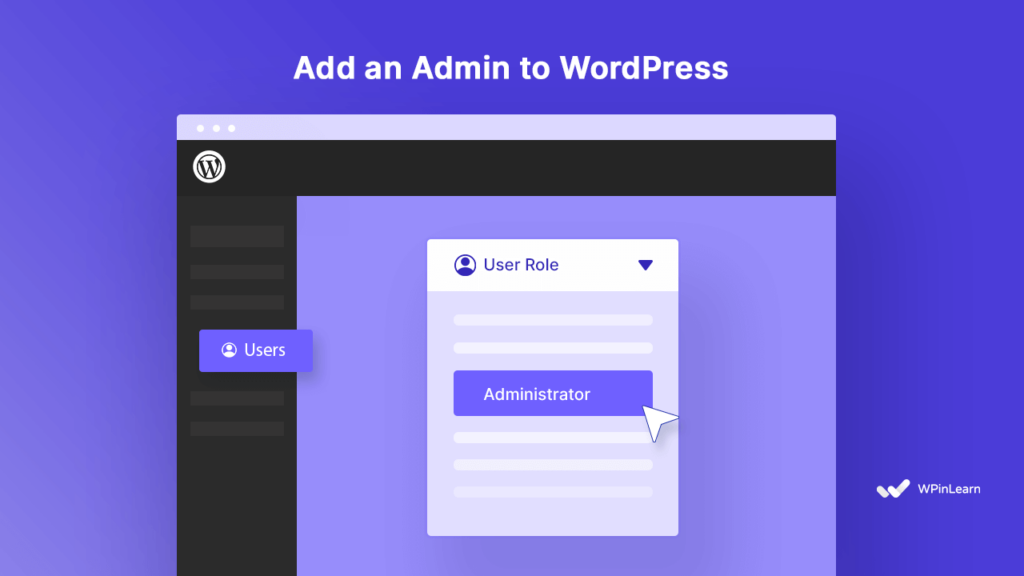 Why Add an Admin to your WordPress website?
An Admin user is an administrator of your WordPress website. Adding an admin to WordPress is common when you hire someone on a full-time basis to maintain your blog.
Adding an Admin to WordPress is generally a good idea for security reasons. For example, you can choose to add a user with the role of Administrator to your site as an extra layer of security if you aren't going to be using your site for posting and making changes.
This secondary administrator will be able to take over for you in the case of hacking or other security breaches. In addition, if you don't have a second WordPress site to transfer the database to, you can add a secondary admin to the database to make any necessary changes.
How to Add an Admin to WordPress?
It's simple to add an admin to WordPress. To add an admin to WordPress, firstly, login into your WordPress dashboard to create a new administrator user. Then click on 'Users' from the dashboard navigation menu.
Then type in the new admin user's preferred username. The user's email address should be entered, enter the first name, enter the last name, enter a website (optional), change the password (optional), send the new administrator an email (optional), change the role to 'Administrator', and click the 'Add New User' button.
I'm done now! Following the completion of these steps, the new admin user will have administrator access to your website. The new administrator account will be visible in your WordPress website's user list.
WordPress Admin Role
The WordPress roles of the Administration interface are very flexible and helpful for making the most of your site. The Administrator has access to all the features of the Administration interface.
The admin can use it to improve your website. They can install themes and plugins and update WordPress or plugins. They can delete, edit, or publish a post and page. They can make changes to the settings. They can change the login URL. They can access your website's admin parts only with the username and password.
They can manage categories, posts, and comments and upload media. You can add an admin to your website and manage it. You can make changes to your website with your own hands. They can do all your tasks within a few minutes.
Wrapping Up
You might be trying to manage your WordPress site all by yourself, and that can be tough! It's essential to have multiple administrators on your WordPress site because if something happens to you, then you can have someone else step in for you. This way, your website is always safe and sound.
So, now that you know how to add an admin to WordPress, we hope you will be able to add an admin to WordPress site to take care of any other WordPress problems you may encounter. If you need any other WordPress tips, please follow us on Twitter. You can also join our Facebook community, and subscribe to our YouTube channel. If you have any questions about adding an admin to WordPress, don't hesitate to contact us.
FAQ: Frequently Asked Questions About Adding Admin to WordPress
Can't access WordPress admin dashboard.

A basic WordPress hack is to clear the cache and delete all cookie constructs. An alternate way to get rid of this is to delete the cookies in your browser. Go to settings, and tools, and clear all your browsing data.

What is the WordPress admin log?

In WordPress, the WordPress admin log is a record of every single action that has been performed on the site. Anyone with access to the log can see what you've done to your site. It contains all the details of the data you've entered, which pages you've created, or pages you've deleted.

Why is my WordPress admin so slow?

If you are using a shared host with too many sites or too many users, or you are using a bad theme or using too many plugins, or you are using a lot of media in your posts, or you are using a plugin that is slowing down the website, etc., then your admin dashboard will be slow. You can ask the host to move you to a faster server, change the theme to a better one, use a better plugin, or limit the number of media files.