Want to make a website for Halloween but don't know where to start? This guide will show you how to create a Halloween website step by step. This guide is for non-techy and beginners.
Halloween is a great time for businesses to utilize and promote their products. However, there can be a lot of confusion around creating a Halloween website. There are different elements to a Halloween website and this guide will help you understand what they are including exclusive tips on Halloween websites.
Halloween is not just about the spooky stuff, creating a Halloween website can be a fun activity that allows you to see your website creation skills.
Why Create a Halloween Website?
Well, you can create a Halloween website in two ways. First, you can use it to promote your own Halloween business and products. If you have some cool Halloween items for sale, you can promote them on your Halloween website. If you are a blog writer, you can create a Halloween blog that is helpful to your visitors.
Second, you can use the Halloween website to make money. You can use the Halloween website to promote resources that you monetize. For example, you could promote a blog online course on how to make Halloween crafts.
When people visit your Halloween website in October, you can have affiliate links to Halloween products that you promote for profit. No matter what Halloween website are you creating, make sure that you use it to make money!
Tips for Creating a Halloween Website
If you run a restaurant, you may provide special dishes with a Halloween theme. If you are running an online clothing store, you can drive sales with special Halloween costumes. Similarly, if you are hosting Halloween parties, you can host Halloween parties. Creating a Halloween website can help customers find your products easily. Here are the best tips for creating your Halloween website
7 Best Tips to Create A Halloween Website
Make Your Logo and Name Halloween-y
A logo makes you more recognizable to your consumers amid the many different brands. You can hire a professional designer, have an in-house one, or design independently. If you make it yourself, visit some logo maker websites or use freemium design tools like Canva or Adobe Spark.
You don't want your logo to look scary, but the name sounds so cute, right? While brainstorming your new name, make one that rhymes with the original, has overlapping sounds, or makes sense thematically.
Mix Your Website With Halloween Colors
The Halloween season is characterized by pumpkins, a gloomy atmosphere, and eerie creatures. Orange, yellow, black, and grey are the ideal Halloween website colors. This Christmas season, you can decorate with such hues, but avoid incorporating them into your brand's color palette.
Add Halloween Details
You may come across remarkable components for Halloween graphic design like bats, witches, brooms, cobwebs, skulls, and ghosts. Remember to keep it simple if you decide to add those to your website. You don't want to "choke" your visitors with too many details that will eventually make it difficult for them to navigate.
Change Your Website Background
How can we discuss Halloween website ideas without bringing up the history? If you're using WordPress, log in to your dashboard, select Themes under Appearance, and then select or upload the backdrop you want. By selecting "Customize from Appearance," you may usually adjust your color scheme with WordPress themes.
Use Spooky Fonts
Another important consideration when discussing Halloween website advice is the typeface. Changes should be made to the heading or any other components other than the main body content. By doing this, your website won't be difficult to navigate and the majority of the material will still be readable. There are many different spooky fonts available online, but don't worry if you don't have the time to look; we've carefully gathered them here in a variety of styles.
Create Catchy CTA Buttons
Selling throughout the holiday season is always the best time, and Halloween is no exception. This is a great strategy to increase ROI and attract more visitors to your "haunted house" or online business. Then how do you do it? One of the best ways to get your visitors' attention is to use eye-catching CTA buttons.
Include Horrific Exit-Intent Popups
If you have an exit-intent popup window, add some spookiness to it. Use well-known Halloween sayings to replace the dull ones. Create promo codes with creativity as well. Try "TREAT4LIFE" as an alternative to "30SALEOFF."
How To Create A Halloween Website in A Single Click
How to create a Halloween website with a single click on WordPress. Wondering how? Templately makes this thing easy for you. By using the Templately Halloween templates, you can create a Halloween website in a while.
You can quickly design your Halloween website with Elementor-ready templates. On Templately, you can find some great, entertaining Halloween themes for Elementor. It has more than 2500 free and paid templates, making it one of the top template libraries for Elementor. Added benefits like seamless cloud collaboration and cloud storage are also available.
Make sure you have installed and created an account on Templately, installed Elementor on your WordPress website, and are ready to use these Halloween templates. Once it is finished, you are prepared to begin. To rapidly design your Halloween website with Elementor and Templately, simply follow the steps provided below.
Inserting Halloween Website Template
First, go to Pages > Add New in your WordPress dashboard to create a new page. Click the Edit With Elementor button at the top of your newly created page. With this, you may load the Elementor Editor.
Now click on the blue Templately button.
Now you can search for the Halloween website template you want. Then simply insert the templates you choose into your website by choosing one from the available options.
We're going to utilize the Wickedly template for this guide. This is how the page template will appear on your website after being inserted.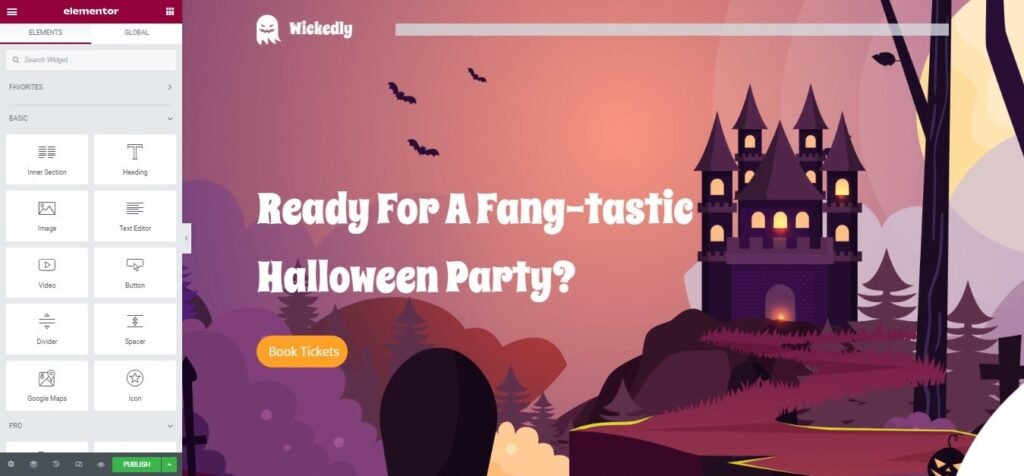 Continue to add pages until your needs are met. When you've finished including all the pages you want, it's time to add your own flair.
Customizing Your Halloween Website Template
You may customize the Halloween page template to whatever you'd like if you'd like. Use the Elementor Editor on your left-hand side and fiddle with the choices in the "Content" and "Style" tabs to do this. Change the font, typography, colors, and more until you are satisfied with the appearance.
You can add your own content while maintaining the template's default design. Remember to click the "Save Draft" button when you have finished editing anything to save your changes.
Preview Your Halloween Website
You can now preview your finished Halloween website after you have completed all of your editings. Your website looks like this below.
This is how easily you can create a Halloween website in a while with the help of Templately templates. We have a comprehensive guide to the top 10 Halloween website templates and themes for WordPress, and you can read the blog to find more templates that will meet your needs.
If you liked this blog post about how to create a Halloween website, then please follow us on Twitter and join our Facebook community for our latest blog update. If you like WordPress video tutorials, then subscribe to our YouTube channel.