Hey there! Are you on the lookout for the best Halloween website templates And themes for WordPress websites in the upcoming spooky season? Then look no further, because we have just the perfect blog for you! So, what are you waiting for? Let's take a look!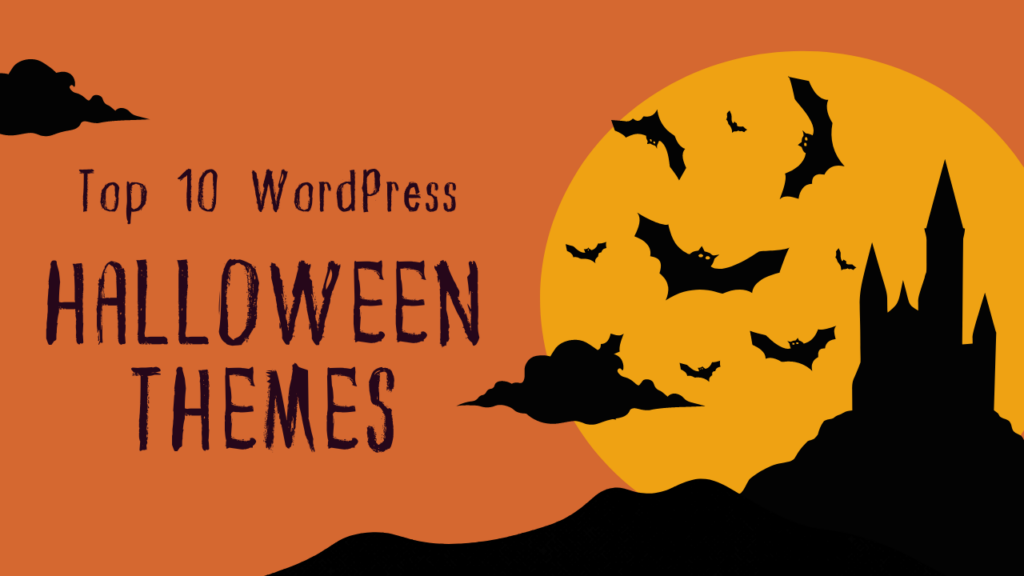 Why do you need Halloween website templates and themes?
Halloween is right around the corner and as it is one of the most popular holidays that gets celebrated worldwide, it is the perfect opportunity for you to make your online business flourish. By creating promotional activities, offering discounts and special sale offers, you can easily boost your sales on this All Hallow's Eve.
Furthermore, by using our unique and creative Halloween WordPress website templates, you will be able to catch your potential client's interest and make them your permanent, loyal customers.
Free Halloween Templates For Elementor
Here, you will find the best Halloween Website Templates And Themes For WordPress users, and the fun fact is that all of these templates are for free! As we know, Elementor might just be the best website builder out there with its user-friendly features, most popular being its drag and drop without the need for any coding.
So, to further enhance your Elementor experience, Templately offers 2500+ template designs that are fully prepared for Elementor. Amidst of these, there are three ready Halloween Website Templates for you to check out now and besides these, you can check out the separate ready template designs that are available for Cyber Monday, Black Friday, Christmas and so much more.
1. Monster Mash Halloween Website Template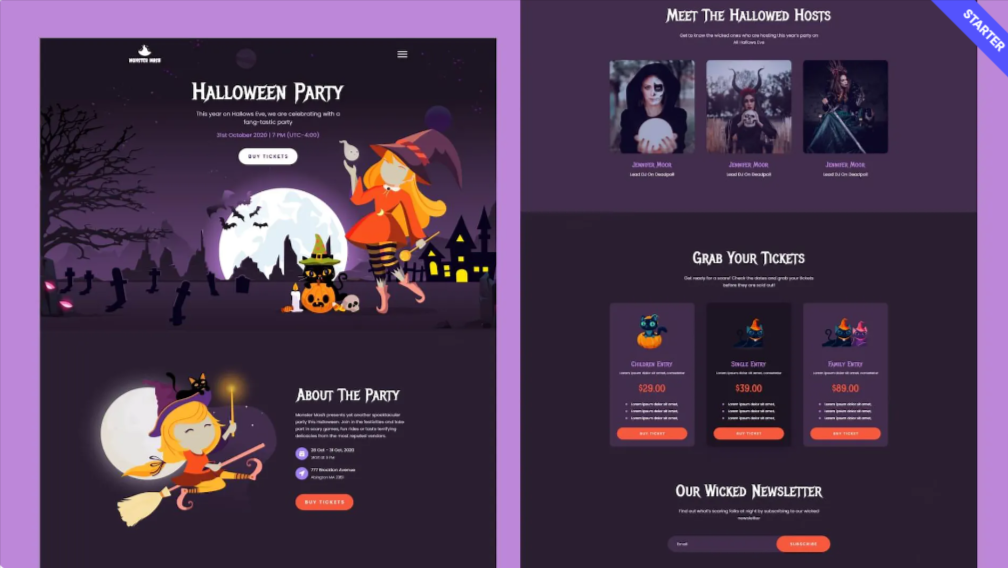 As you can see, Monster Mash will give you the perfect Halloween effect with all of its cool, spooky feels and of course, without the need for any type of coding. It is based on a dark color theme that is traditionally associated with Halloween. And honestly, who will be able to ignore that cute cat wearing a witch's hat? It does not end there, along with the stunning graphics, Monster Mash also comes with absolute bewitching Call to Action buttons and responsiveness.
2. Wickedly Website Template for Halloween
On the other hand, Wickedly might just be the most unique design you will ever come across. With its light theme and gorgeous details, this free Halloween website template might be the best option for you if you were looking for something cute yet pleasing to the eyes. As well as being super responsive, it is cross-browser compatible and can be easily used in mobiles.
3. ScareScream Halloween Template For Elementor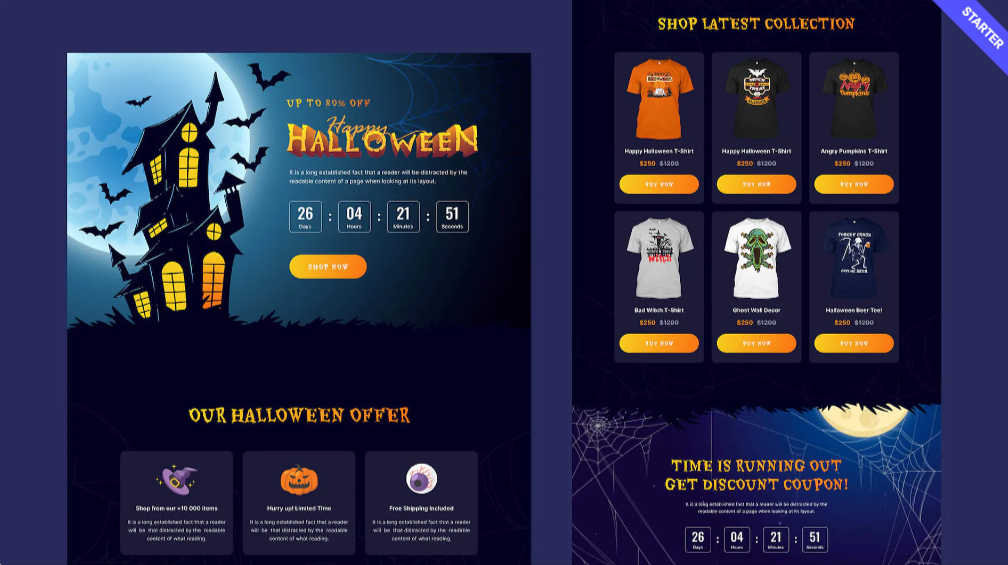 ScareScream is another creative and free Halloween website template that you might want to take a peek at, especially if you are into the theme of haunted houses and scary spiders. With the creepy illustrations, it features animated countdowns, responsiveness and loads more.
4. Halloween Atmosphere Website Template
If over the top designs are not meant for you then Halloween Atmosphere is the perfect template for your portfolio with minimalist graphics and fonts to give off an aesthetic vibe to your website that you can also use all year around. It is not just responsive but is search engine friendly and WPML ready and its design theme is bootstrap, making it mobile-friendly and the perfect landing page for this year's Halloween.
5. PartyMaker Website Template for Halloween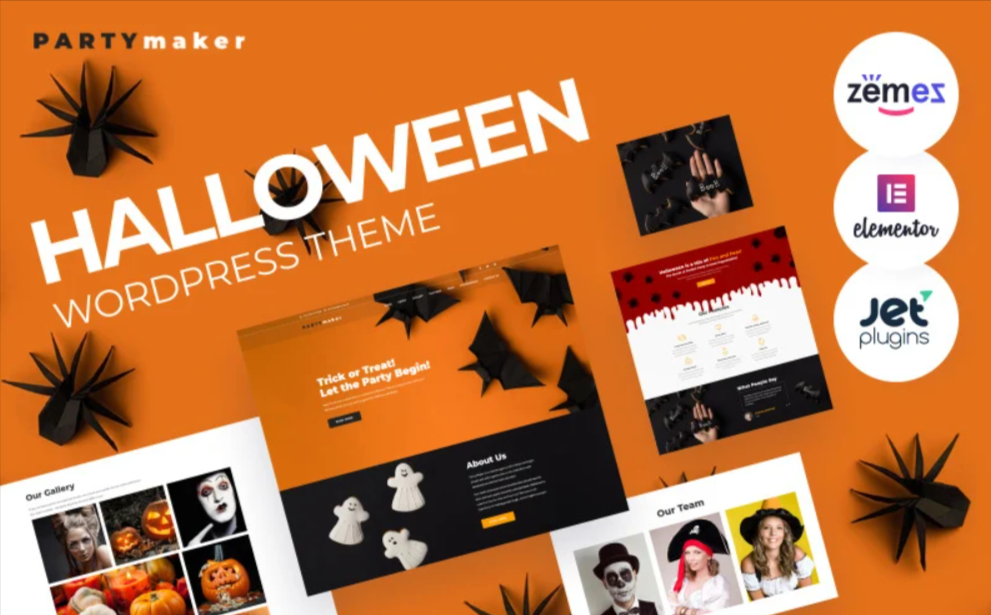 PartyMaker will customize your homepage to add all of the necessary information like, an about section and how to contact you and much more. This Halloween Website Template comes with 50+ widgets and is user-friendly in numerous ways and mainly because it does all of this without any coding. As for the aesthetics, it includes background pictures that will give your website the perfect All Hallows Eve effect. Additionally, its design is responsive so that it will fit both of your desktop and mobile screens.
6. Hexentanz–Horror Halloween Website Template
Obsessed with the supernatural world? Then, the Hexentanz-Horror Halloween Website Template might just be the one for you. Its spine-chilling instrumental, mystical fonts and the interactive user interface will make sure to haunt your customers so that they get addicted to your content. It comes with optional page templates that will allow you to set up a gallery or a blog and also has a ticket reservation feature that is sure to come in handy when you are organizing your events!
7. Allhallows Website Template for Halloween
Allhallows is a captivating Halloween Website Template that is sure to capture your customers attention no matter which corner they turn to. Its amazing graphics, fonts and color combo is sure to lure them and turn them into more permanent. Compatible with multiple browsers like Firefox, Chrome and more, compatible with bootstrap 4.x, well responsive and retina ready, it is definitely something that you will want to take a look into.
8. Interactive Ad Group WordPress Theme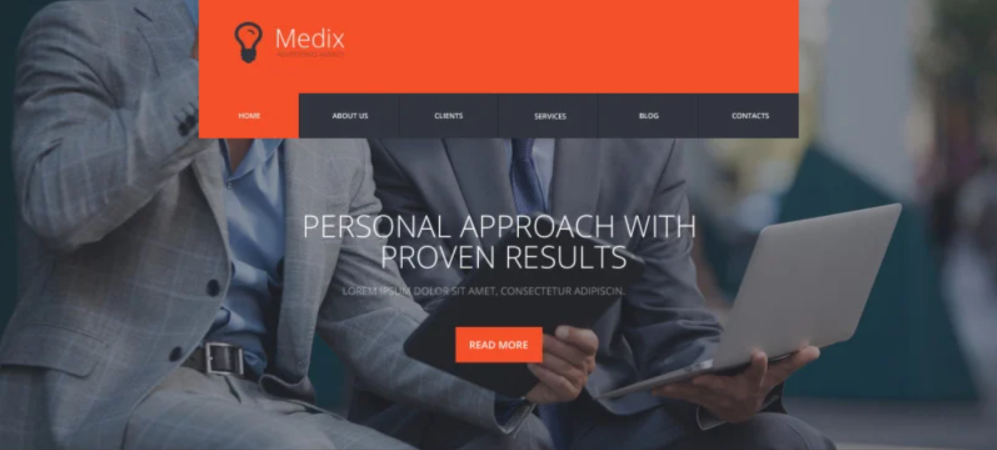 Maybe other templates are too funky for you. Let us suggest this Halloween Website Template then. Interactive Ad Group WordPress Theme is the perfect solution for you if you want to join in on the holiday season but do not want to come off as superficial. Its geometric design gives off the flawless professional aesthetic while its orange and black color combo will instantly remind your consumers about the spooky season.
9. Zombie Animated 404 Theme
What could be the absolute worst nightmare of an online business owner? It is Halloween and your page has gone to bonkers. So, why would you want to show your customers the plain old boring 404 page when you can choose this creepy one? This simple but creative and easy to use Zombie Animated 404 Page will be the perfect icing on top and it is also LESS CSS included.
10. Halloween 404 Theme
The zombie error page was too creepy for your liking? Then we are sure that this Halloween 404 Theme is just the one for you to create a scary yet cute 404 error page that will go perfectly with the rest of your Halloween themed website. With three different themes to choose from, coloured, light and dark, it is super versatile and will make sure that it goes with your other contents. And some of its main features include, being retina ready, easy customisation even for newcomers, font-face integration, modern layout and more. Besides, with that cute little ghost that says 404 and floats up and down, who would even mind landing on this 404 page?
Now It's Your Turn To Choose!
All Hallows Eve is just around the corner and it is the perfect time for you to start decorating your website by using any one of these amazing Halloween Website Templates that are Templately ready for Elementor and are free and will align with any Halloween vision that you might come up with for your business. Trust us, this will be one treat for your customers that will not allow them to forget about your business anytime soon!
If you liked this article about top Halloween website templates and themes tor WordPress, then you can join our Facebook community and follow us on Twitter for our latest article update.