Elementor is a great page builder for WordPress, but it's even better with addons! Check out our list of the 5 best addons for Elementor to take your website to the next level.
Do you know the market for Elementor plugins for WordPress? With more than 5 million professional users, Elementor is the top-rated feature-packed page builder, which powers 7% of all WordPress websites.
Elementor is among the best page builders. It has a large user base and offers a ton of customization options. Even though this plugin is a true game-changer, Elementor addons can improve it even further.
With an easy-to-use visual builder, Elementor is the most popular WordPress website building platform that enables web designers to create polished, pixel-perfect websites. Without writing a single line of code, you can quickly and easily create unique websites for your customers or company.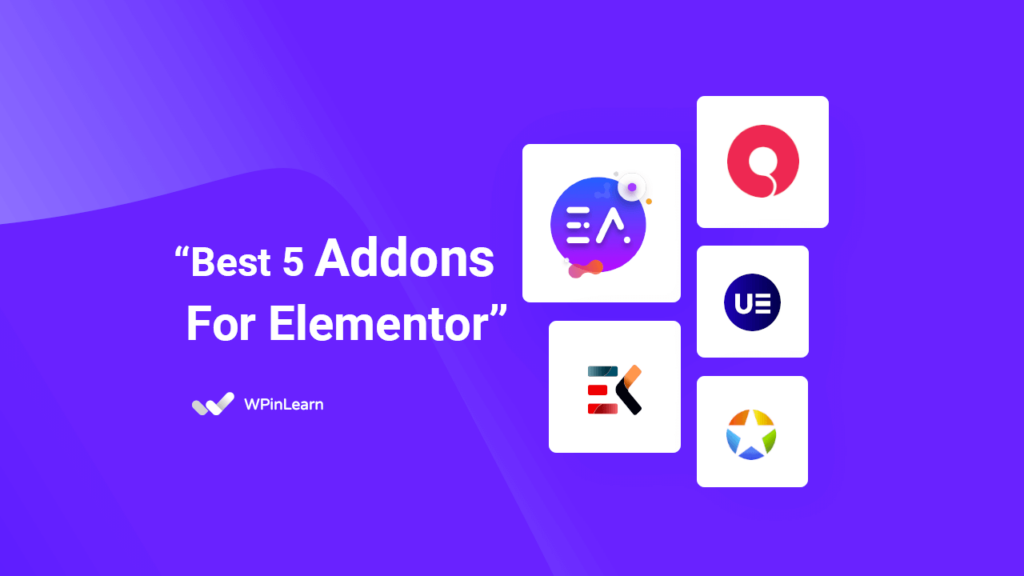 Elementor addons are plugins created especially for the Elementor platform by skilled outside developers. They enhance the user experience while enhancing the functionality of Elementor.
Currently, the Elementor builder plugin provides 80+ design elements and many more ready-made templates.
But if you want to extend the core functionality of Elementor significantly, there are 131 Third party Addons that will give you a variety of designs and add more features with extra widgets.
This post will discuss the top 5 Elementor add-ons that may significantly improve the way you create websites. For Elementor, there are both free and paid add-ons. You may choose the version based on your needs.
5 Best Addons for Elementor WordPress Website
Essential Addons For Elementor
Qi Addons For Elementor
ElementsKit Elementor Addons
Ultimate Addons For Elementor
Premium Addons For Elementor
1. Essential Addons For Elementor – Beautiful Design and Limitless Customizability Possibilities.
The most popular Elementor addon that makes the list with 1 million active installations is Essential Addons. With 1.6 million active installations, Essential Addons tops the list as the most used Elementor addon.
The Easy Elementor Addons consist of a set of creative widgets to take the design possibilities of your website into a whole new range.
You may quickly construct and curve any web page or website using the high-quality elements included in the extension. Before publishing each part on your site, you can further customize it to suit your needs.
At this time, they provide 70+ free (both paid and free) Essential Addons, such as Info Box, Image Accordion, Advanced Tab, Instagram Feed, Particle Effects, Advanced Tooltip, and Logo Carousel, Form Styles, Content Toggle, and many others.
You may add more than 100 blocks, layouts, and sections to your Elementor website using Essential Addons for Elementor.
The free edition offers you widgets for tabs, a gallery that can be filtered, client endorsements, sticky videos, and Twitter and Facebook feeds. A WooCommerce product grid and Contact Form 7 forms are also included in the free edition.
With the Premium edition, you not only receive some helpful widgets but also far more sophisticated choices, particularly with regard to carousels (you may have them show your Twitter feed, team roster, or posts, for example).
For instance, Advanced Google Maps with color choices, overlay, and route functionality are included in the Premium edition along with the Instagram gallery and feed widget. The companion theme Flexia is also recommended by the creators.
The backend can be used to control modules. You may read more than 1,300+ positive customer testimonials.
The following features make Essential Addons for Elementor a fantastic plugin:
22 free content elements
11 free dynamic content elements
3 free marketing elements
16 free creative elements
65+ Elements
100 ready-made blocks
7+ Extensions
Completely Customizable
Unlimited Activation
Popular widgets are Event Calander, Team Member Carousel, Advanced Tabs
Elements control option
Free and pro extensions.
Premium Support
Fast Loading
Easy Form Building
Event Calendar
Mailchimp Compatible (Premium Version)
A free version is available in Essential Addons and on one website for $39.97.
2. Qi Addons For Elementor – The Largest Free Collection of Addons for Elementor
If we have to name one tool that covers it all, it would definitely be Qi addons for Elementor. For a lot of reasons, Qi Addons are one of the best addons for Elementor.
This comprehensive plugin includes all of the capabilities that users of Elementor would require. This plugin offers a limitless variety of capabilities.
Whatever feature you require to improve your website, Qi has you covered. With the assistance of this plugin, you can easily generate banners, user testimonials, blog pages, price tables, and client lists.
Additionally, there is a large selection of widgets for portfolio and commerce websites. You may construct any website element to suit your needs, including product lists, sliders, before/after comparison sliders, picture galleries, and masonry image galleries.
There are also many typographic widgets available. You can review the thorough documentation that contains all the instructions if you require any kind of assistance.
There are 60 free and more than 40 paid widgets available in Qi Addons for Elementor.
The top features of Qi Addons for Elementor:
60+ Free Custom Widgets
40+ Premium Custom Widgets
3 Business Addons
15 Typography Addons
9 Showcase Addons
7 Creative Addons
7 Infographic Addons
3 SEO Addons
4 WooCommerce Addons
2 Form Style Addons
You can try the free version and a paid version starting at $49 annually for 1 website.
3. ElementsKit Elementor Addons – All-in-One Addons for Elementor
Elementskit, Introducing one of the Elementor add-ons that is currently selling and growing the fastest. This add-on is evolving so quickly that they have occasionally received over 2,00,000+ grateful customers. It quickly rose to the top of our list of recommendations for Elementor Addons.
The biggest feature of these additions is the availability of more than 250 prepared widget presets, 500+ prefabricated section layouts, 8+ unique modules, 35+ premade homepages, and more than 85+ free and paid components.
This also includes a completely customizable, drag-and-drop, and beginner-friendly page builder that you can make in under a minute without any prior coding experience.
A competitive package that contains powerful Contact Form 7 forms, 18 ready pages, 42 widgets, WooCommerce components, and more are included with even the Lite edition!
ElementsKit for Elementor is totally compatible with any theme and plugin, in addition to all of these fantastic widgets and functionality. Additionally, it includes a support center that is open 24/7 and will help you wherever you are!
One of the most comprehensive sets of Elementor widgets accessible in WordPress is found in ElementsKit. You can build a wonderfully quick, clever, and superior website using ElementsKIt.
The top features of Elementskit Addons for Elementor:
40+ Free ElementsKit Addons
Megamenu builder
45+ Pre-designed Header & Footer Templates
Cross-domain copy-paste
Ready templates, blocks, and landing pages
55+ Free and Premium elements
15+ PRO ElementsKit Addons
500+ Ready Sections
250+ Widget Presets
Unlimited Activation
85+ custom addons
Multi Widgets Area
Parallax Effects
The Elementskits free version is available and the paid version starts at $39 per year for one website.
4. Ultimate Addons For Elementor – All in One Place
A WordPress plugin called Ultimate Addons for Elementor was created to increase the page builder's degree of inventiveness. This plugin enhances your current Elementor plugin with a ton of cutting-edge modules.
50+ pre-made starter templates are included with Ultimate Addons and can be imported with only a few mouse clicks. They now provide 40+ Elementor widgets, which will enable you to create expert websites more quickly than before.
With more than 100 templates and 200 section blocks for the Elementor page builder, The Ultimate Addons for Elementor is a potent premium plugin for Elementor extensions.
The Ultimate Addons, which are used on over 646,396+ websites, are simple to use and install and provide you with greater design freedom for your website.
Cross-site copy and paste, a ground-breaking feature that lets you copy any element's properties and paste them anywhere on any website, is brand-new to Ultimate Addons. If you're reusing resources, that saves you a lot of time and work.
All of the templates are of professional caliber and produce fully functional websites that you may edit to your heart's content.
The only addon you need is Ultimate Addons for Elementor, which has received fantastic ratings and a program of continuous upgrades and improvements!
Top Features of Ultimate Addons for Elementor:
50+ Elementor Widgets
90+ Free Starter Templates
200+ Section Blocks
Cross-Site Copy Paste
WooCommerce Widgets
RTL Support
White Label Branding
Product Updates
Premium Support
Unlimited Website Usage
Extensive Training
Risk-Free Guarantee
The Ultimate Addons price starts at $59.
5. Premium Addons For Elementor – Supercharge Your Elementor WordPress Page Builder
Premium addons, for Elementor, avoid being misled by the title name. Both free and paid components are offered by this add-on.
The free edition includes, among other things, a price table, a gallery grid widget, a Contact Form 7 widget, and a Google Maps widget that can be customized with unique markers and skins.
Additionally, you have access to the developers' section template library, allowing you to quickly import a template you prefer.
Despite the free version, the premium version comes with 50+ highly customizable widgets such as image comparison, media grid, pricing table, and many more.
When using the graphical widgets in the Pro edition, you have access to a number of additional choices, including the ability to add hotspots, animate them in layers, arrange them accordion-style, and apply parallax effects or particles for some very eye-catching design solutions.
The pro edition also includes review and testimonial widgets that integrate with Google, Facebook, and Yelp reviews, as well as social feed widgets for Facebook, Twitter, Instagram, and Behance.
Also interesting are the Facebook Messaging and WhatsApp Messenger widgets, which let your website visitors send you messages right from it. This way, your social network presence, and activity may actually help your website.
The Best Features of Premium Addons for Elementor:
20+ free widgets
30+ premium widgets
400+ Pre-Built Section Templates
​Image scroll
100% responsive
Content Widgets
Free Elementor Section Templates
Free Cross Domain Copy N' Paste
Free Page Duplicator
SEO Friendly Faster Performance
Pricing table Elementor widget
Social Media Ready
WPML Ready
Video Tutorials
You can use Premium Addons for Elementor free version and a paid version that starts at a Single Use License of $39.
Bonus: HappyAddons – A Unique Addons for Elementor 
Another freemium alternative that enables you to add a huge number of additional widgets to your Elementor site is Happy Addons. It comes from WeDevs, the same developers as other well-known plugins such as the Dokan WooCommerce multi-vendor marketplace.
One of the Elementor add-ons with the quickest growth is Happy Addons, which has lovely designs and handy widgets.
A stylish, adaptable, and remarkable collection of Elementor widgets is Happy Addons for Elementor. In the free version of Happy Addons, there are over 22+ enhanced features that solve common problems in Elementor.
A total of 114+ additional widgets are included, 49+ of which are already included in the plugin's free version on WordPress.org.
While the majority of other well-known Elementor extensions include all the most popular widgets in their pro edition of the addons, Happy Addons believes in giving its users the majority of them for free. You will immediately like it if you look at its collection of free widgets.
These Features Make HappyAddons Unique:
Floating Effects
CSS Transform
Widget Background Overlay
500+ Happy Line Icon
On-Demand Asset Loading
400+ readymade elementor blocks
70+ full-page Elementor Templates
Custom Shape Divider
Text Outline
Happy Tooltip
Pricing: You can get the free version of Happy Addons for Elementor at WordPress.org. For usage on a single site for a year, the premium version costs $39.
Although you can use any of the addons described above, Essential Addons is the best option. It has over 1 million active installations and offers service around the clock. If you prefer to use a free version, this is also a great choice. It is advised that everyone who uses Elementor do this.
Final Word
This post examined a few of the top Elementor Addons plugins currently on the market. We hope that made it easier for you to choose the best option.
If you enjoyed reading this post and would like to read more like it, you can subscribe to our YouTube channel to see more fantastic WordPress video tutorials. You may follow us on Twitter and join our Facebook community to stay up to date with the latest information.