Are you looking for an assistant that can help you write your blog, website copy, social media post captions, Google ad copy, cold mail, and much more? Then look no further than Peppertype.ai!
It gets challenging to come up with new, original content ideas after producing a ton of content. What if you had access to an AI that could come up with content ideas? not just create ideas, but also original content? That'd be fantastic, right?
Peppertype.ai the Best AI Writer is the most comprehensive AI writing tool on the market. It offers a wide range of features and benefits that make it the perfect tool for any writing project. From creating SEO-optimized content to generating ideas for new blog posts, Peppertype.ai the best AI writer is the perfect tool for any writing need.
This complete overview and guide will show you everything you need to know about this top-rated AI writing tool, including its key features, benefits, and pricing.
Table of Contents
Peppertype.AI: What is it?
Peppertype.AI the Best AI Writer is an AI-powered content creation platform that can quickly produce interesting content for several channels. It is for social media teams, marketers, and agencies that want to rapidly and widely publish new content. You can create exciting content using Peppertype.ai that performs well on search engines, advertisements, and social media.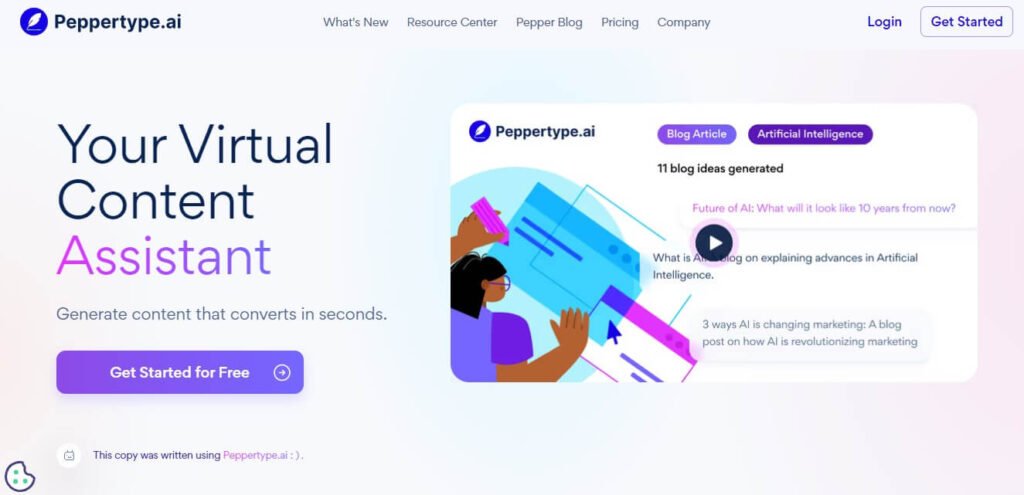 With the press of a button, you can quickly and easily generate marketing content with the AI-powered writing tool Peppertype.ai.
How Peppertype.AI Can Help Your Online Business
Do you know what's the most essential thing in an online business? It's the content. Unfortunately, it is not an easy task. Creating new, quality content is not that simple. You need to study how to write content, go to blogs and forums, look for ideas and inspiration, and then come up with unique content that will be useful for your readers.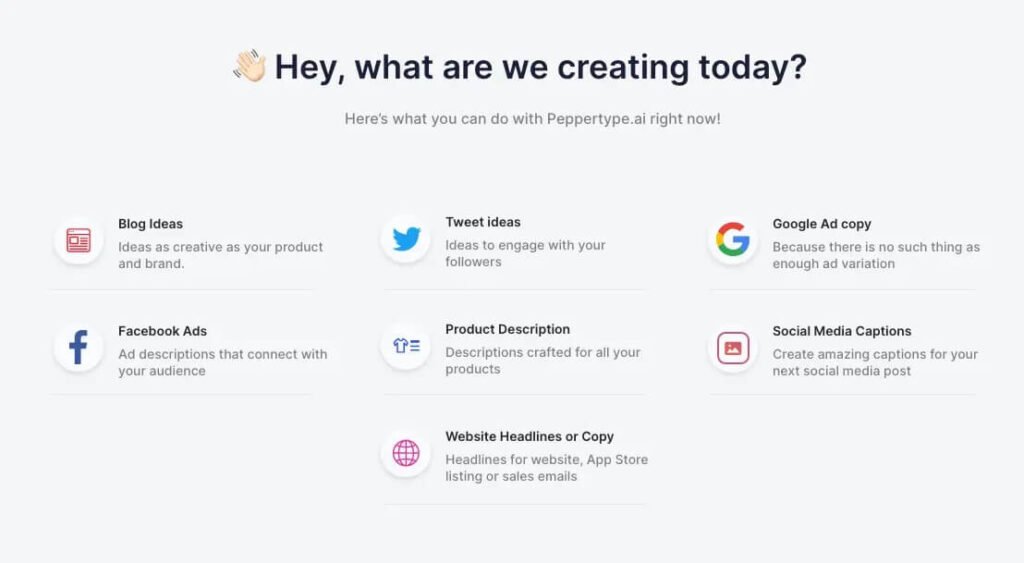 If you're a small business, you know how much time it takes to find a writer, manage the writer, and make sure that the writer is actually putting out quality content. If you're a big business, you're probably getting an article from a freelancer that you have to edit and proofread yourself. Either way, it's a lot of work. But with Peppertype.AI, all that changes.
All this requires a lot of time, effort, and good writing skills. But, Peppertype An AI content writing tool can easily save you time and effort. It is an AI content writer that can help you create different types of content, such as blog posts, articles, reviews, and other types. It doesn't matter if you're a big or small business owner.
So if you are a blog writer, social media manager, email marketer, SEO manager, product manager, and content creator and have no one to write content for you, you may use Peppertype.ai, an AI content writer tool, which is very helpful for your online business.
Entrepreneurs need to produce a lot of marketing copy and other content, such as blog articles, social networking postings, sales copy, and marketing emails.
An automated text production tool with the most cutting-edge AI is called Peppertype.ai (Artificial Intelligence). Making engaging content for every application simply takes a few seconds.
Peppertype.AI's Ultimate Advanced Level Features
In general, Peppertype.AI has 41 types of content-writing features. With the aid of Peppertype.ai's AI-powered features, you can quickly create superior content. You may automatically produce the following material with this tool.
Peppertype.AI Features List:
The following content can be generated with Peppertype.AI.
Website Headlines/copy
Brand Product Description
Google Ad Copy
Tweet Ideas
Social Media Post Captions
Blog Ideas
E-commerce Product Descriptions
Facebook Ad Copy
Meta Descriptions
Before-After-Bridge Copywriting
Blog Conclusion
Blog Outline
Looking For Tailor Made-Content
Blog Introduction
Pain-Agitate-Solution Copywriting
Value Proposition
Engaging Social Posts
Blog Heading Expander
Feature to Benefit
Website Sub-Headline
Product Review Generator
YouTube Video Description
YouTube Video Topic Ideas
Compelling Bullet Points
Content Rewriter
Amazon Product Descriptions
Content Expander
Engaging Questions
Quora Answers
Customer Review Response
First to Third-Person Converter
AIDA Copywriting
Personal Bio
Email Subject Lines
Cold Emails
Content Simplifier
Amazon Product Bullet Points
Amazon Ad Headline
Amazon Product Title
Poll Question and Answers
Paragraph Writer
Blog Content
The development of Peppertype was done with content generation in mind. You will be able to produce original articles for your blog using this function.
Peppertype can quickly create any type of blog post, including a concept for the content, an outline, the body, and a conclusion.
SEO Content
Since you are producing content for your website, it stands to reason that you want to improve your SEO ranking. Because of this, Peppertype now includes SEO content production.
With the help of these capabilities, you can also create meta descriptions and titles that are SEO-friendly. Nice, huh?
Social Content
You may create material for social engagement with Peppertype. It simply takes a little while. It may assist you in coming up with intriguing inquiries, one-liner wacky tweets, interesting tweet ideas, and social media post descriptions, among other things.
Marketing content
Marketing material is one of Peppertype's greatest applications. You can create compelling bullet points for email campaigns, major ad text for Facebook ads, and more using Peppertype.
E-Commerce
Looking for an easy way to create eCommerce product descriptions? With Peppertype, you can quickly and easily create product descriptions for Amazon that are optimised for search engines. With Peppertype's easy-to-use tools, you can create descriptions that are both informative and keyword-rich, helping you to attract more customers and boost your sales.
Product
Looking for a way to write product reviews and customer responses? Peppertype is the perfect solution! With Peppertype, you can create reviews and responses quickly and easily, without any hassle.
Let's Write a Blog using AI Writing Tool: Peppertype
You may create entirely unique and appealing marketing content, social media captions, and much more with Peppertype, ai, which will save you more time and effort.
Actually, you can see how to automate the writing process here. Watch Peppertype.ai in action.
Blog Ideas
First, have a look at the process of generating a blog post. You can quickly put up a blog post with Peppertype.ai without experiencing any hassles.
Choose the content type "Blog Ideas" from Peppertype and mention your product or service, write a description about your product or service; then click on "create content."
After clicking on "Create content", many blog ideas will generate within a second. Now choose the blog heading for your blog post.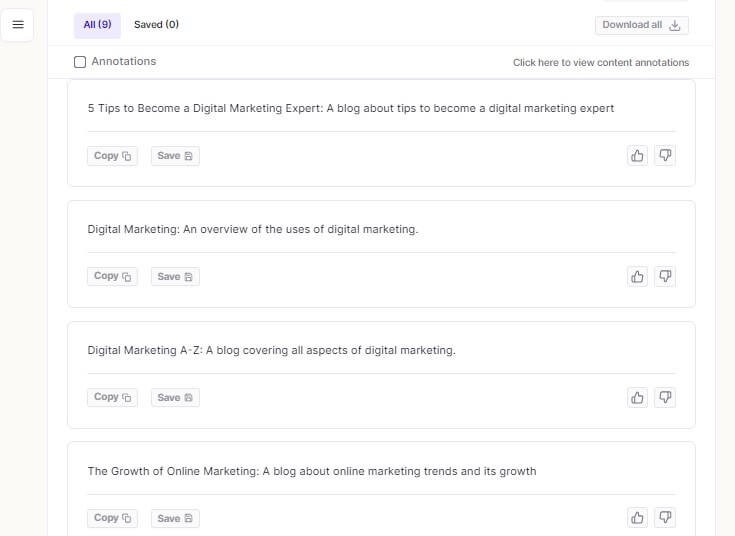 Meta Descriptions For Blog
The meta description, or "meta tag," is an element in HTML that can include up to 160 characters that summarize the contents of a page. Catchy meta descriptions may take a lot of time, but with Peppertype it is super easy.
Write your blog title and the keyword you want to add to your meta descriptions, then click on Create Content.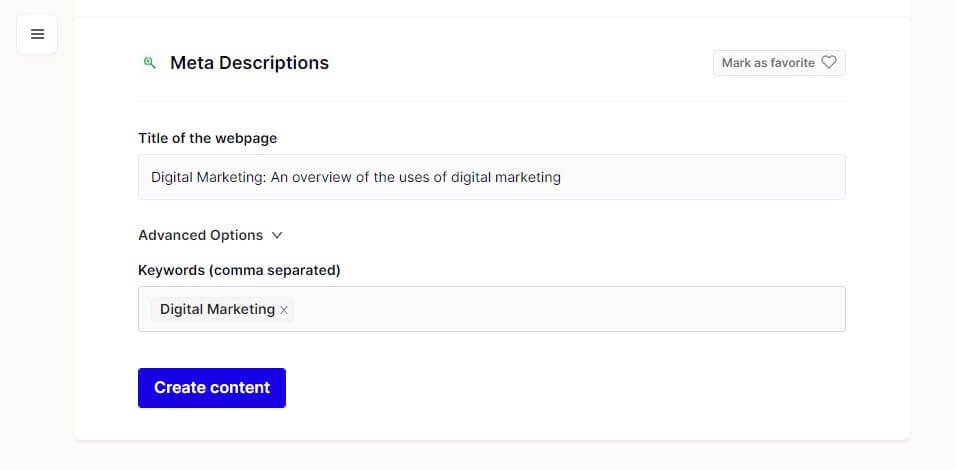 There will be many meta-descriptions generated in a matter of seconds. Choose from them and use the meta descriptions in your blog post.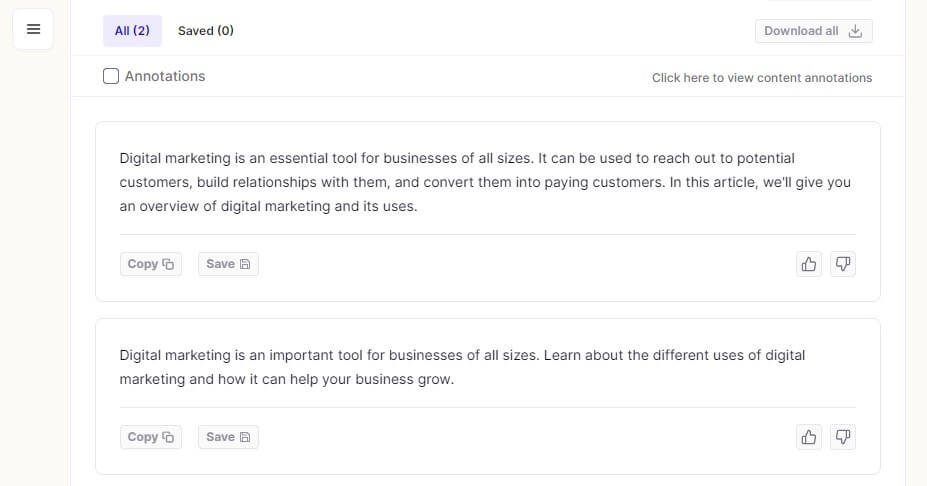 Using Blog Outline Features
Now we will utilize the Blog Outline content type of Peppertype for generating the blog post outline. So select "blog outline" content type, write the blog topic that you get ideas for from blog ideas, and click on "create content."
After clicking "Create Content," an overwhelming number of blog outlines will be generated in a matter of seconds.
A number of outline patterns will emerge after a short period of time. Remember one thing the more characters (maximum 180) you can use to describe your blog topic, the better the outline will be. The blog post's structure is directly taken from this outline. This is very advantageous because it takes the need to consider the overall chapter structure out of the equation.
After generating the outline, we are now going to utilize the blog heading expander.
Blog Heading Expander
Copy and paste your heading and write your topic, then click on "Create Content."
After clicking on "create content," the blog heading expander will generate the post's content in a matter of seconds.
This is how it works. To create sentences, sequentially copy and paste the remaining outlines of the blueprint. Repeating this procedure will result in a natural blog article.
It will be completed in under three minutes (including editing). By the way, all of the text generated in this place is unique. This is not a copy-and-paste job.
Blog Conclusion
We get ideas for blog posts, make a meta description, make an outline for the blog post, and expand all headings. Now that it is conclusion time, we will make the conclusion and CTA for the blog post. Select the "Blog Conclusion" content type, write down your blog topic and CTA options, and hit the "Create Content" button.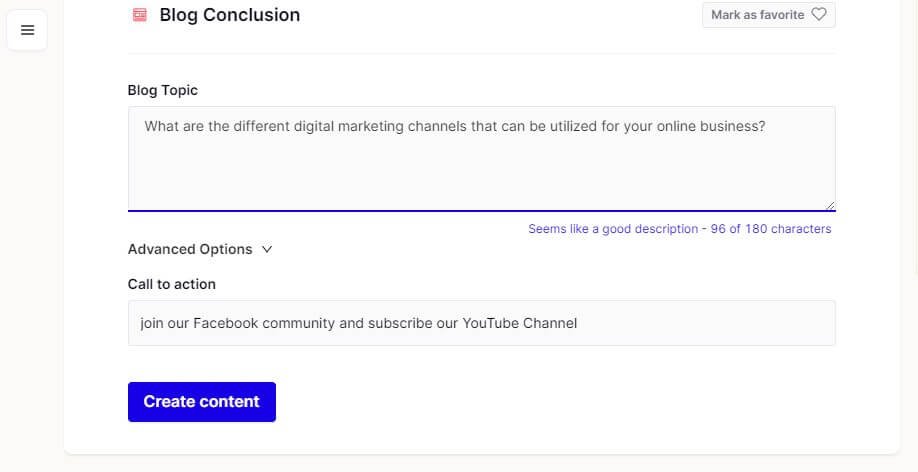 Here is your blog conclusion, choose your preferred one and use it in your blog post.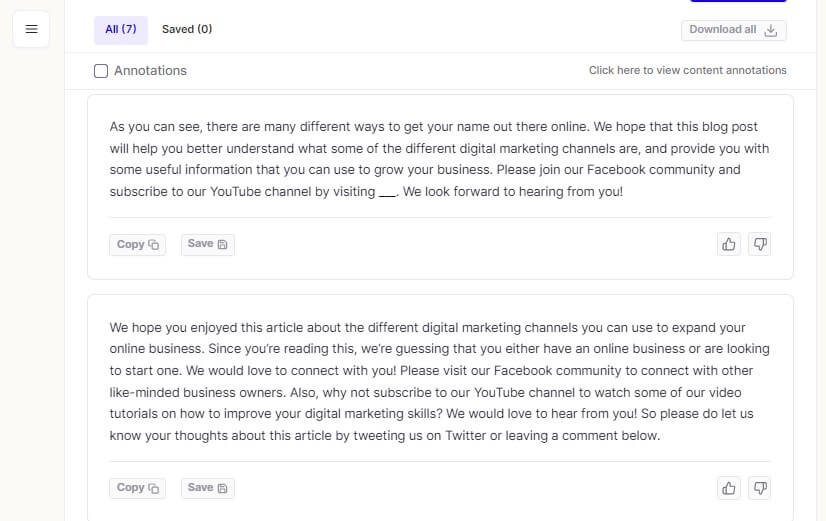 As you can see, using Peppertype.ai allows you to create blog articles that would normally take a long time to compose. You will spend much less time and effort writing if you do this. You won't find a more trustworthy and practical tool for business owners, online marketers, and content creators!
Peppertype Quora Answers
You can easily market your online business through Quora Answers. Online marketing through Quora answers has become a popular medium these days. But you don't have enough time to answer questions on Quora to market your online business.
You do not need to worry because Peppertype will help you type your Quora answers with a click. You can go to the Open Quora answers section in Peppertype and write the questions. You can include something that you want to include in the answers, and you can set the tone of voice for the answers. When everything is done, click on "Create Content."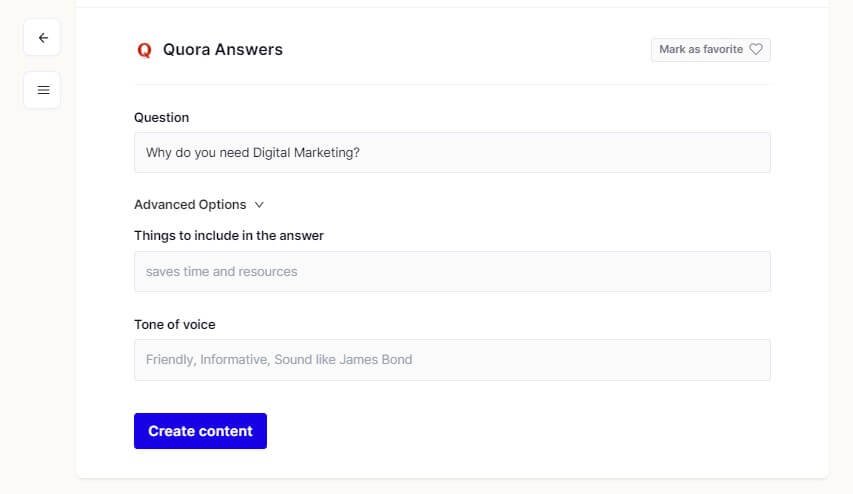 Here you will find many types of answers to your Quora questions.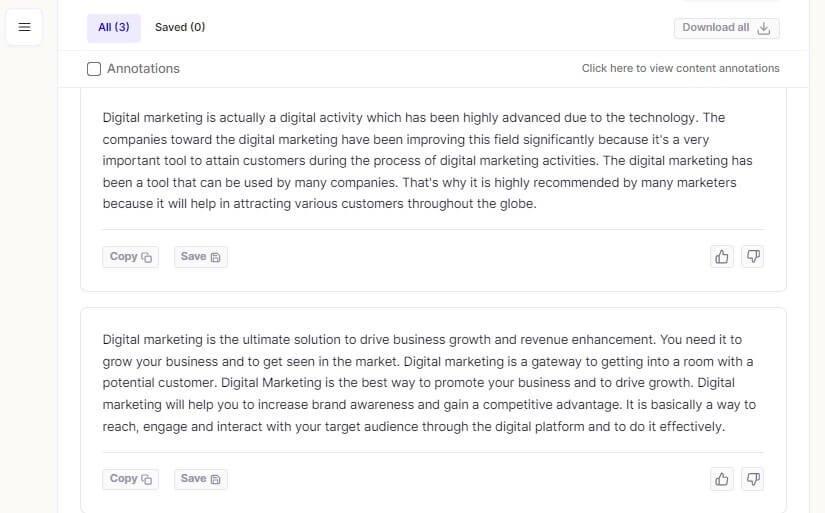 You can use the Quora answers sections for blog post answers. And you can ask any questions here to get answers.
Peppertype.ai Advantages And Disadvantages
We will now list the advantages and disadvantages of Peppertpe.ai after briefly introducing some of its features.
Advantages of Peppertype.ai
Peppertype can quickly produce a ton of high-quality text in a matter of seconds.
It saves time in the content writing process.
You can check your team's analytics and it includes a simple dashboard.
A wide variety of writing templates
Anyone can easily copy and save content for use.
You can produce content that is just as interesting as human writing or perhaps more so.
Create content in 25+ languages!
There are several automated writing services available, but their work hasn't exactly been of the highest caliber. However, I can promise you that this tool's quality is unmatched.
On the other hand, we will also describe this tool's disadvantages.
Disadvantages of Peppertype.ai
It does have a bit of hit-and-miss to it with content suggestions.
Too few credits are given. Some captions contain data without citations, making it very challenging to employ such study ideas for our captions.
It's not a human replacement.
That is now the disadvantage.
Peppertype.ai Pricing
First of all, Peppertype.ai provides Starter, Growth, and Enterprise price tiers. Please review the pricing table for each plan below.
Personal Plan: $35/month for 1 person.
Team Plan: $40/month for 5 people.
Enterprise Plan: Contact Support
The monthly price for the starter plan is $35. Most business owners will succeed with the starter plan, which further enables you to produce an infinite amount of content. No restrictions apply.
Teams and organizations are encouraged to utilize the growth plan.
Features like personalized AI and plagiarism checks are implemented in the Enterprise plan. For the Enterprise plan, you have to contact them because the pricing is not disclosed on the official website.
By the way, if you choose a yearly plan, the aforementioned amount represents the monthly cost.
It's Time to Start Using Peppertype.ai
Consistently producing interesting, shareable content is a challenge for content marketers. We all know that coming up with a concept takes more than just a few minutes; frequently, a single piece of content necessitates hours of preparation, research, and writing.
Try out the Free Trial First. You will understand Peppertype.ai's benefits after utilizing and experimenting with it.
By the way, you may make more than 100 copies during the free trial. In other words, you can completely understand the performance and usefulness even with the free trial.
Start with a free trial if you wish to cut your content marketing efforts down to less than a tenth of what they are already.
In this blog article, we presented Peppertype.ai, an AI-enhanced writing tool (artificial intelligence). If you have any questions about it, feel free to comment in the comments section.
If you liked this article about Peppertype.ai, then please join our Facebook community, and follow us on Twitter for our latest article updates. Also, you can subscribe to our YouTube channel.
FAQ: Frequently Asked Questions
Are the copy generated original and plagiarism free?

Based on the criteria you provide, Peppertype.ai creates 100% original copies. You need to read their Terms of Service and Privacy Policy for more details.

Can I use the generated copy for commercial use?

Yes, you can create all types of content on Peppertype.ai.

Is it crucial to use AI-based writing tools?

Both "yes" and "no" are the responses. It's an easy explanation. Despite the fact that AI is utilized by many companies, they are wary of it. We do not, however, see any cause for concern. In actuality, marketing has less work to do thanks to AI's writing assistance. It's true that content curation may lead to exhaustion, but these tools can help. AI-based writing tools handle content development so that marketers may concentrate on other crucial areas of marketing.

Is Peppertype.ai an effective AI-based technology?

Without a doubt, the answer is yes. One of the top writing tools available today. You may accomplish several tasks quickly with the aid of these tools. As a marketer, you would be able to lessen the stress associated with content development. 

Is the power of Peppertype.ai writing assistants real?

It is, indeed. AI-based technologies improve your content authoring and ensure error-free content development. Moreover, using Peppertype.ai's writing assistance might be the best choice if you want to strike a balance between quick delivery and high-quality content. You will be given a flawless recipe for content if you define your rules and list your content needs.