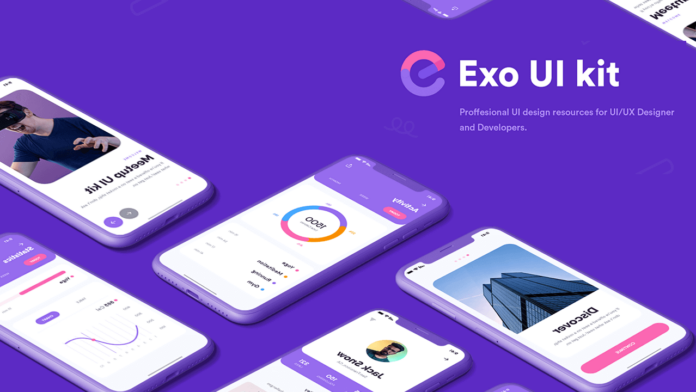 Getting Started with Mobile App Design:
Exo UI Kit is a package that allows you to develop and design projects in mobile apps as well as create wireframes, mockups, and much more. It comes with many components that you can use openly, including background patterns, buttons, tabs, and form elements.
Developing mobile applications has become a competitive advantage for companies – from large tech conglomerates to automobile manufacturers. Most of all, it matters how relationship-oriented your interface is because mobile users want to feel like they're interacting with an app on their own terms without feeling like they've been directed along the way by design. We hope that our UI UX will help you find more success and good fortune during the time you take developing your project's mobile application!
What is UI/UX design?
UX is an entirely new mindset. It's a human-focused approach to the services you provide, which is all about making your logical service delivery easy to use, helpful and accessible. At times it can be more than just aesthetics as it also comprises of how your service looks/functions but a lot of the time it concerns itself with overall usability as well.
When creating the design for a mobile app, it's important to acknowledge how important user interface and user experience (UI UX) is to creating an easy-to-use interface that won't cause its user any frustration. And while there are many different things to consider when designing these types of interfaces, this blog focuses on just one: a UI UX design kit.
How important is User Interface Design?
The way a mobile app function isn't the most important thing you can worry about. A lot of people don't realize that even how an app looks and feels is just as important as what it does! In other words, just because something works well doesn't mean it's going to click with your customer base. Designers and programmers are getting better at creating apps that look amazing but still pack a punch, so why not trust them to get the job done?
In today's world, a huge amount of time is devoted to the design and usability of a mobile app. Although functionality or what it does is important, it's equally important to ensure that your users have a great experience using your application.
How Can a Mobile App Affect Human life?
Mobile app design is essential and prolific as website design. We've noticed that more people have and are increasingly favoring their cell phones over the use of their own computers due to increased convenience. In fact, some users don't even use computers anymore at all thanks to being completely engrossed by the functionality of mobile applications such as applications for iTunes and Google Play.
Introducing with 'Exo UI Kit' for Mobile UI Design
'Exo UI Kit' design kit can be a great resource for any business that needs to create a unique user interface for their product. This kit comes with everything necessary to create amazing interfaces and user experiences, including custom fonts and icons, buttons, ui kits, forms, maps, typography, charts, tables and much more! Whether you'll use this kit as an addition to your own project or as the foundation of another one – it will fit perfectly on every screen.
This is the Mobile UI kit that can be used to build your mobile application. It is designed by a professional UI UX designer.
Key Feature of 'Exo UI Kit'
Scalable Vector
Fully Customizable
Made with Google Font
Clear Structure & Layers
375X812 – Screen Resolutions
75+ Premium Quality Screens
250+ Drag & Drop Ready Components
Well Organized Styles, Layers, and Groups
How to Get 'Exo UI kit' Mobile UI Kit for Lifetime for Only $6
👉 Are you planning on getting a mobile app UI design kit for a lifetime?
👉 Are you looking for a one-time payment to get a mobile UI kit?
👉 Are you looking for a Mobile App Designer?
✅ If your answer is yes to the above questions then you're in the right post.
Get 'Exo UI kit' Lifetime for $6
Now Take Your Decision About Exo UI kit
We couldn't help but gush over this Exo UI kit for mobile app developers and project managers, which is one of the best we've seen yet. This toolkit is the ultimate mobile UI Design kit for Mobile app developers and project managers. It's a very helpful and high-quality asset to designing your own app because it contains tens of pages you can use without needing to adjust things very much in your designs. But that's not all!
We hope you enjoyed reading about this mobile UI kit! We know that with this information, you'll be able to help create a mobile application with a pre-built design. Stay tuned because there's more on the way. In the meantime, if you have any questions about mobile application development or design, feel free to reach out anytime. Thank you for reading!